Tyler Hilinski: Quarterback's death stuns Washington university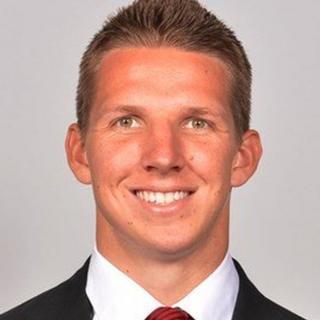 A US college football quarterback has died from an apparent self-inflicted gunshot wound, say police.
Tyler Hilinski, 21, was found in his apartment near the Washington State University (WSU) campus after he did not appear for Tuesday's team practice.
His body was found at the property in Pullman, Washington, alongside a rifle and a suicide note, officials say.
Mr Hilinski was tipped to become the starting quarterback this season for his college team, the Cougars.
In a statement, Pullman Police said they were working with the Whitman County Coroner's Office to "confirm the suspected cause and manner of death".
Mr Hilinski appeared in eight games in the 2017 season, once rallying the team to victory from a 21-point deficit.
In that September game, he threw three touchdowns after coming off the bench, and was carried off the field in celebration.
WSU football coach Mike Leach said in a statement: "We are deeply saddened to hear the news of Tyler's passing.
"He was an incredible young man and everyone who had the privilege of knowing him was better for it."
University Director of Athletics John Johnson called the sophomore "a tremendous individual, great friend and teammate".
When his football teammates were informed of his death on Tuesday, "they were met by campus and department counselling and psychological services, including athletics' on-staff clinical psychologist and a licensed mental health counsellor", Mr Johnson added.
Washington State University's players and fans have taken to social media to react to his death.
His younger brother, Ryan Hilinski, is a star high school quarterback in Claremont, California, where the family lives.
The younger Hilinski received an offer to join his brother on the Cougars team for the 2019 season.
He posted a message on Twitter late on Tuesday night that read: "Please keep my family in your prayers tonight."
---
Where to get help
From Canada or US: If you're in an emergency, please call 911. If you or someone you know is suffering with mental-health issues, call Kids Help Phone at 1-800-668-6868 . If you're in the US, you can text HOME to 741741
For Health Canada's First Nations and Inuit Hope for Wellness Helpline, call 1-855-242-3310
From UK: Call Samaritans on 116123 or Childline on 0800 1111
---
More on suicide in American football
Gay torment made NFL star plan suicide
Bible verse mystery in ex-NFL star's death