Ivy League student Blaze Bernstein knifed 'over 20 times'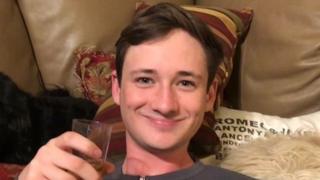 An Ivy League college student was reportedly stabbed nearly two dozen times by a high school friend after making a sexual advance on him.
Samuel Woodward, 20, was arrested after DNA belonging to Blaze Bernstein was found in his rental car, according to the Orange County Register.
Mr Woodward told investigators he became enraged after Bernstein, 19, kissed him, the paper reports.
Bernstein's body was found in a shallow grave after a week-long search.
Citing a 16-page arrest affidavit, the newspaper reports that Mr Woodward had attended the Orange County School of the Arts in Santa Ana with Bernstein.
Mr Woodward told police that on the night of Bernstein's disappearance, the two had arranged over Snapchat to "hang out" in the car park of Hobby Lobby hardware store in Lake Forest - about 50 miles (80km) from Los Angeles.
Ivy League student found 'killed' in park
The affidavit noted that Woodward claimed to have pushed away his high school friend after Mr Bernstein kissed him on the lips while they sat in the car.
Orange County homicide sergeant Don Voght told the channel the suspect had altered his appearance during the search and investigation.
Police also cited numerous inconsistencies in Mr Woodward's story.
He claimed he was with his girlfriend at the time, but could not recall her address or surname.
According to the affidavit, when asked about cuts on his hands, Mr Woodward claimed he "fell into a dirt puddle" while participating in a "fight club".
As he left the police station, police say he "pulled his jacket over his hand to prevent his hand and fingers from touching any part of the doors he touched".
Mr Bernstein vanished while home on holiday from the University of Pennsylvania, where he planned to study medicine.
His remains were found in a park near his family's home after a week-long search, which involved more than a dozen volunteer drone pilots.
The death rocked the community of Lake Forest, which has not seen a murder in four years.
In a statement after the arrest, Mr Bernstein's parents said they were "proud of everything he did and who he was".
"If it is determined that this was a hate crime, we will cry not only for our son, but for LGBTQ people everywhere that live in fear or who have been victims of hate crime."
Some 850 family members and friends gathered for a memorial service at a local synagogue on Monday.