Officials probe Missouri governor for 'blackmail and assault'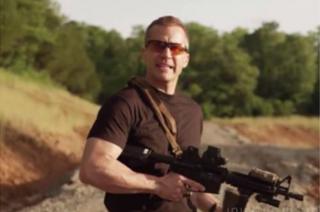 Officials in Missouri have launched a criminal inquiry into Governor Eric Greitens, amid a claim that he took nude photos of a woman without her consent.
The spurned ex-husband of the woman, who has not been named in reports, secretly recorded her describing the otherwise consensual encounter.
On Thursday, the man added that Mr Greitens had "slapped her" after she told him she had slept with her own husband.
The Republican governor has admitted to being "unfaithful" but denies the rest.
A lawyer for the man, who has also not been named due to privacy concerns, claimed on Thursday that Mr Greitens had slapped his ex-wife during a 2015 encounter in hospital while the former Navy Seal's wife was giving birth.
"When she admitted that she'd had sexual relations with her husband during a period of reconciliation, that the governor slapped her," lawyer Albert Watkins told CBS News.
James Bennett, a lawyer that Mr Greitens says he hired without using state funds, called the allegations "completely false".
"It never happened. There was never any violence. Anything reported otherwise is untrue and we will explore pursuing all legal action," he told US media as the new allegation was revealed.
He added that the claims are "being advanced by political adversaries".
On Thursday, the circuit attorney for the city of St Louis launched a criminal investigation into the governor's alleged actions.
"The serious allegations against Missouri Governor Eric Greitens are very troubling," Kimberly Gardner said in a statement, adding that "both parties and the people of St Louis deserve a thorough investigation of these allegations".
"If anyone has any information related to this matter, I encourage them to contact my office immediately."
The Missouri statehouse was rocked by the admission on Wednesday that the governor had had an extra-marital affair, and the claim he had taken nude images of his mistress without her consent.
The woman, who was reportedly the hairdresser for Mr Greitens, told her husband in the recording that said she "saw a flash through the blindfold and he said, 'You're never going to mention my name".
Critics have referred to his alleged actions as "revenge porn" and blackmail.
In a statement on Wednesday, the governor admitted to being "unfaithful to his wife", but denied engaging in blackmail.