France drops terrorism charges against Canada professor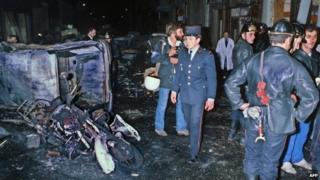 French authorities have dropped all terrorism charges against Lebanese-Canadian professor Hassan Diab in the 1980 Paris synagogue bombing.
He was charged with first-degree murder in connection to the bombing that killed four people and injured 40.
He was arrested in Canada in 2008 and extradited to France in 2014. He spent three years in prison.
Mr Diab, 64, has always maintained his innocence and says he was in Lebanon at the time of the attack.
"Canada welcomes the recent court decision to release Hassan Diab," said Brittany Venhola-Fletcher, a spokeswoman for Canada's department of international affairs.
Ms Venhola-Fletcher was not able to say when the former University of Ottawa professor would be returning to Canada.
French judges ruled the evidence "was not convincing enough" and ordered Mr Diab to be released on Friday. His extradition to France has triggered a number of people to call for an update to Canada's extradition act.
French prosecutors say they will appeal the decision.
Mr Diab has always said that he was in Lebanon at the time of the attack to write university exams, and several witnesses, as well as university documents, back up his claim.
French authorities initially charged him based on evidence that showed he resembled a sketch of the main suspect, and that his passport showed him entering and leaving Spain around the time of the attack. They believed the suspect escaped through Spain.
They had also claimed Mr Diab, who has taught sociology at two Ottawa universities, was a member of the Popular Front for the Liberation of Palestine.
He was accused of making a bomb and leaving it in a motorcycle outside the Copernic Street synagogue in Paris on 3 October 1980.
France's CRIF Jewish federation president Francis Kalifat told the AFP he was "dismayed" by the ruling, which he called an "insult to the memory of the victims" of the attack.