Calgary cancels 'all-ages' naked pool party amid outrage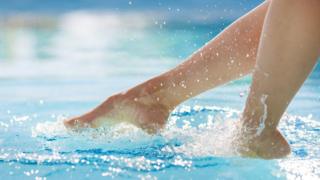 A Canadian city has cancelled a naked swim at a leisure centre over security concerns arising from "volatile public commentary".
Calgary, in Alberta province, scrapped the event on Thursday after thousands signed an online petition calling for the sold-out pool party to be halted.
Opponents were concerned the 14 January event at the Southland Leisure Centre was all-ages and family friendly.
The aborted swim party was organised by a local naturist group.
Calgary Nude Recreation describes itself as a group "for like-minded people who enjoy being in their birthday suit".
In a statement, the city of Calgary said "recent events have created the potential to impact the safety of participants, public, and staff".
It said that private bookings of naturalist swims at city facilities have been authorised for years without incident, and that the cancellation was not due to the nature of the activity.
In a statement posted on its Facebook page, Calgary Nude Recreation said it was "outrageous that lawful recreation can be prohibited by an incredibly vocal minority".
"These people must NOT be allowed to dictate public policy with threats against law abiding citizens engaged in lawful activities," the statement read.
Over 20,000 people signed the online Change.org petition calling for the event to be cancelled or changed to adults-only.
A counter-petition to "Shut Down the Petition to Shut Down the Nude Sliding Event" received some 6,000 names.
Event organisers said they recognise that Calgary "is not the bad guy here" and hope to work with city officials to reschedule the event.
Calgary officials said they would collaborate with the group on future bookings.
But the nudist group said that since Calgary is the "gatekeeper" of all future events, legal action will be taken against the city.
Calgary Nude Recreation says its "new mission" is to ensure more people in the city have access to nude recreation and it wants to establish a "legal clothing optional" stretch of river near the city centre for summer swims.