Bad landing caused plane crash that killed Canada ex-minister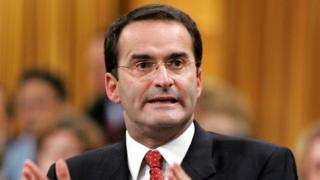 A former Canadian transport minister was killed in a plane crash caused by an "unstable approach" to landing in heavy snow, investigators say.
Seven people were killed after a small private plane crashed on an island off the east coast of Quebec.
Jean Lapierre, a broadcaster and former politician, and members of his family were among the victims.
The Transportation Safety Board (TSB) of Canada said that continuing with an unstable approach is too risky.
"We have seen too many of these unstable approaches in the past lead to tragic accidents," said TSB Chair Kathy Fox in a release.
"It is important that pilots consider conducting a go-around when an approach is unstable. We will continue to highlight the risks of unstable approaches until there is a reduction in the number of accidents in which approach stability was a causal or contributory factor."
All seven people aboard the plane perished when the twin-engine turbo-prop plane hit the ground at near-level attitude after the pilot lost control of the aircraft.
Mr Lapierre, his wife, two brothers and a sister were on board.