Steve Bannon leaves Breitbart News amid Trump row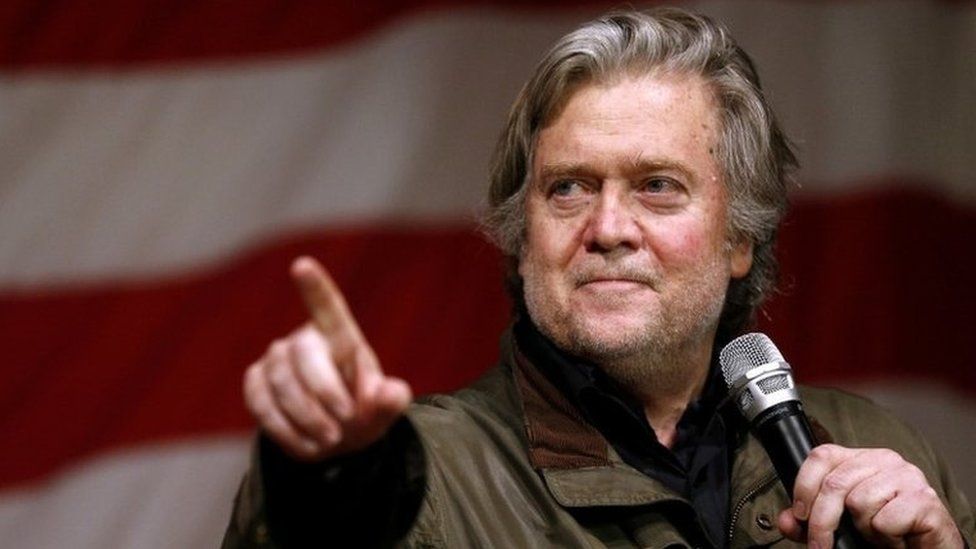 Steve Bannon, Donald Trump's ex-chief strategist, has stepped down from the right-wing Breitbart News organisation where he built his reputation.
The move comes amid a furore over remarks he reportedly made about President Donald Trump's son.
He described a meeting Donald Trump Jr held in New York with a Russian lawyer during the 2016 presidential election campaign as "treasonous".
He was one of Mr Trump's most trusted - and controversial - aides.
But he left his post last summer after reports of a power struggle among Mr Trump's White House staff.
His subsequent attempt to take on the Republican establishment suffered a severe blow when Roy Moore, the Senate candidate he championed in a special election in Alabama, lost to a Democrat - the first time that party has won in the state in decades.
Bannon surveys the wreckage
By Anthony Zurcher, BBC News, Washington
Steve Bannon's fall from power is now complete. He was first stripped of his top White House job. Now he has been cashiered from his position atop a media empire he helped create.
As he surveys the rubble, he has no-one to blame but himself. In both instances, his decision to speak his mind publicly was his undoing. He criticised administration policies and, in an even greater transgression, took aim at Donald Trump's own family in sharply personal terms. When the White House made it clear last week it was time to pick sides between Mr Trump and Mr Bannon, the choice for most conservatives was clear.
Now Mr Bannon's hopes of funding insurgent candidates against incumbent Republican senators in 2018, and boosting their candidacies through his media megaphone, have been dashed.
What's more, he has to watch as the president he helped elect on an economic nationalist platform negotiates comprehensive immigration reform, touts a sweeping corporate tax cut recently signed into law and plans a visit to the globalist summit at Davos, Switzerland.
This was not the revolution Mr Bannon, just a year ago, may have envisioned.
Mr Trump has recently taken to referring to Mr Bannon as "Sloppy Steve", a derogatory reference to his former aide's famously dishevelled appearance.
And Rebekah Mercer, a wealthy benefactor of Mr Bannon, said at the weekend she had ended her support for his political efforts.
Last Sunday Mr Bannon insisted that his "treason" comments - quoted in an inside account of the Trump White House, Michael Wolff's Fire and Fury - were not directed at Mr Trump's son but at another former aide, Paul Manafort, who was also present at the meeting in Trump Tower.
The Senate, House of Representatives and a special counsel are all investigating alleged Russian interference in the presidential election, allegations denied by both the Kremlin and Mr Trump.
Mr Bannon had served as executive chairman of Breitbart since 2012.
It quoted Mr Bannon as saying: "I'm proud of what the Breitbart team has accomplished in so short a period of time in building out a world-class news platform."
Breitbart CEO Larry Solov was quoted as saying: "Steve is a valued part of our legacy, and we will always be grateful for his contributions, and what he has helped us to accomplish."