Donald Trump's medical: What will it reveal?
By Owen Amos
BBC News, Washington DC
Donald Trump will have his first presidential medical on Friday - so what should he expect?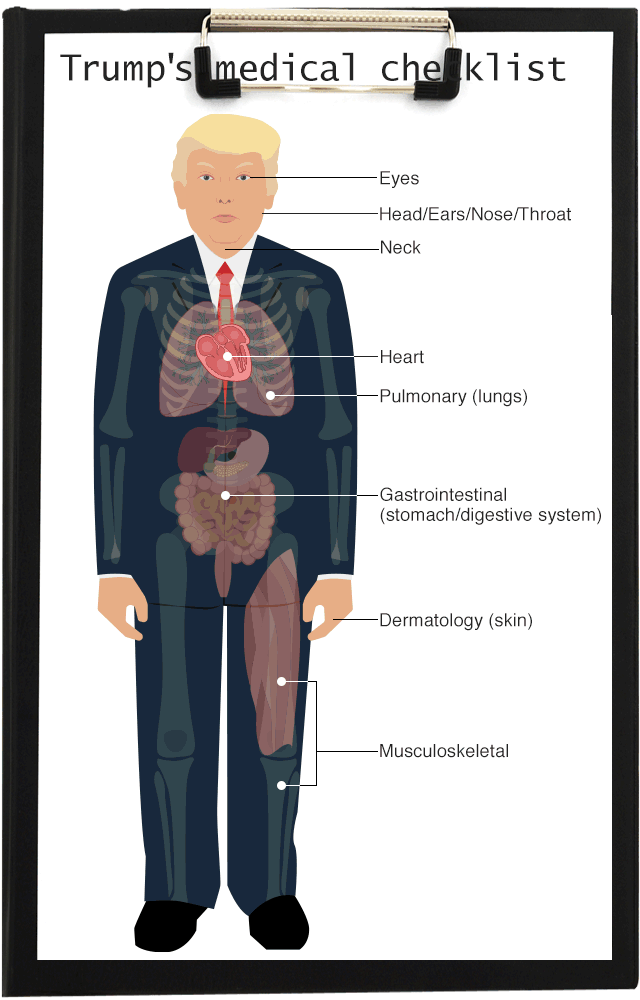 When President Trump sits down at the Walter Reed Medical Center in Bethesda, Maryland, he will have good news and bad for his doctor.
Also, he doesn't smoke. "I watch people smoke," he said in 2015. "It looks terrible to me."
A recent book revealed Mr Trump had "four major food groups" during his campaign. They were:
McDonald's
Kentucky Fried Chicken
Pizza
Diet Coke
That's 2,430 calories. The recommended daily intake for a man is 2,500.
In addition, Mr Trump seems not to believe in exercise. Although he plays golf, he uses a buggy.
So, like we said. Good news and bad news.
In September 2016 - two months before the election - he released his medical records.
His total cholesterol was 169 - anything under 200 is "desirable" - while his "good" and "bad" cholesterol were also healthy.
Mr Trump's blood pressure (116/70) was in the "ideal" range, his liver and thyroid were normal, and his last colonoscopy revealed no problems.
"In summary," wrote his long-time doctor Harold Bornstein, "Mr Trump is in excellent physical health."
"Not only is he eating food high in fat, and high in salt, he's less likely to eat fruit and vegetables - because he's consuming so much other food.
"A diet low in fruit and veg, and high in saturated fat, is likely to contribute to coronary heart diseases, cancers, and diabetes."
Mr Trump benefits from not smoking or drinking, says Dr Kayat. But exercise is vital.
"Of course, alcohol and cigarettes are a main contributor to many conditions," she says.
"But physical inactivity poses almost as much of a heart disease risk as smoking. It's the kind of thing people overlook, but it shouldn't be.
"Physically inactive people are twice as likely to develop heart disease, compared to those who regularly exercise."
So the human body is not like a battery with a finite amount of energy?
"Not that I know of," replies Dr Kayat.
"Certainly, over-exercising is likely to increase wear and tear in joints. We never recommend extreme exercising.
"But regular 30-minute exercise, five days a week, is absolutely encouraged."
Although President Trump's mental health has been questioned, today's medical will not check his mental fitness.
President Trump does not have to make his medical results public - but his spokeswoman said the White House doctor, Ronny Jackson, will give a "readout".
So, if President Trump walked into Sara Kayat's office, what would she advise?
"We know that by improving nutrition and physical activity, we're going to reduce the rates of disease - and death by chronic disease.
"It's a matter of really emphasising that those two factors are as big as cigarette smoking.
"Just because you think you're good at one aspect, it doesn't mean you can completely overlook the other aspects."