Mother and three children found dead in New York house fire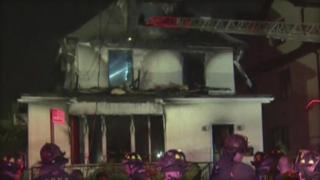 A mother and her three children were killed after a house fire broke out in Brooklyn, US media report.
The blaze broke out around 2:30 local time (7:30 GMT) and engulfed the single family home while the family slept.
Five other family members were injured, and three are in the hospital in critical condition.
One teenager escaped but broke his pelvis by jumping out of the window and others left through the side door, according to the fire commissioner.
New York Commissioner Daniel Nigro said that flames broke out on the first floor, spread fast up the stairs to the second floor and then climbed to the attic.
A neighbour called firefighters upon seeing the blaze.
After the flames were put out authorities found the 40-year-old mother and her 3-year-old daughter, 7-year-old son and 11-year-old son all dead on the second floor, Mr Nigro said.
The father and two other children remain in critical condition in the hospital.
Nine people were in the home at the time of the fire, a mother and father, their six children and a cousin.
Five firefighters also sustained minor injuries.
The cause of the fire is under investigation and was "not suspicious, but accidental", according to Mr Nigro.