Roy Moore: The eyes of the world are on Alabama election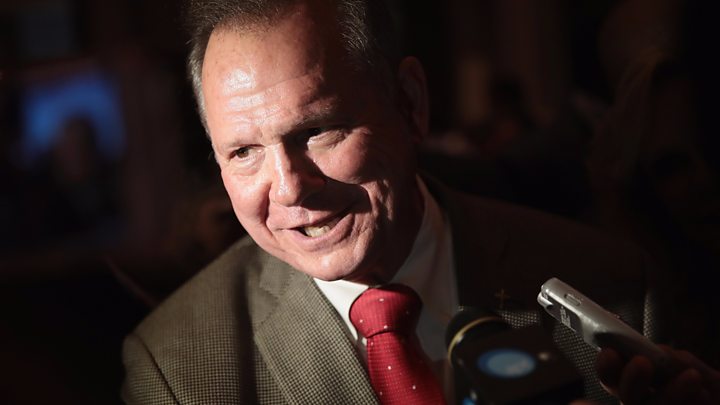 Sexual misconduct claims against an already-controversial candidate have thrust a US Senate race into the global spotlight - and highlighted divisions between President Trump and top Republicans.
Question: Just how interested is the world in the Alabama election tomorrow?
Answer: A reporter from Moldova is down there. It's pretty much all you need to know.
News organisations from foreign countries love stories about America that expose its weaknesses. They always have done.
It can sometimes be explained as schadenfreude, an almost indecent glee when things are perceived to have gone wrong in the world's superpower.
The riots in Ferguson, the shooting of Trayvon Martin, Hurricane Katrina, the financial crash, and now the Alabama race.
Those reporters would not normally fly to the Deep South to cover a mere US Senate race, especially one that should have been a straightforward Republican win in this conservative state.
Then again, you don't often get a candidate who believes homosexuality should be illegal, Muslims should be banned from serving in Congress and the last time America was great was when there was slavery.
That's the Republican, Roy Moore.
I deliberately omitted the sex allegations there because his record, even without serious claims of child molestation (which he denies), make him extreme, even by the standards of conservative, evangelical, Southern politicians.
The world's press probably would not have descended on Alabama for Tuesday's vote had it not been for the sexual harassment stories, but they should have done.
This was a fascinating story of America before that.
And it's a fascinating indication of the state of American politics today.
The Alabama race has split the Republican party. Donald Trump this weekend recorded a phone message in support of Roy Moore and at a rally in Florida urged Alabamians to vote for him. The president warned the Trump agenda could be at risk if the Democrats win the seat and reduce the Republican's already-narrow majority in the Senate.
The failed effort to repeal and replace Obamacare earlier this year proved how fragile the party's control of the Senate is. They desperately want to avoid a similar fate when it comes to upcoming votes on tax cuts.
Yet, other top Republicans, including the sitting senator for Alabama, have said they can't vote for Mr Moore because of the allegations against him.
Senator Richard Shelby is popular in the conservative state so it will be interesting to see whether his denunciation of Mr Moore has an impact at the polls.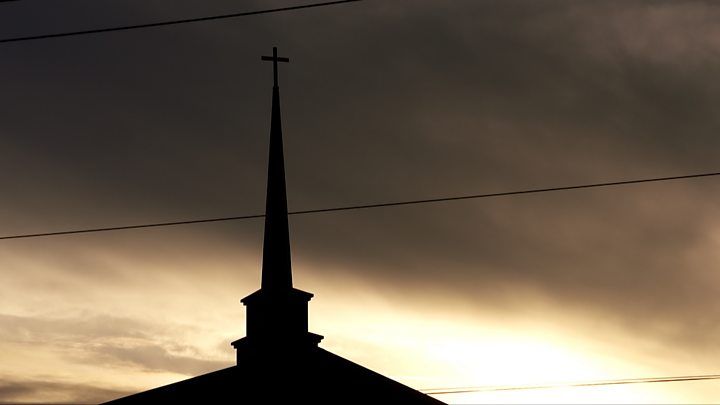 Plenty of Alabamians are sticking by the candidate.
Roy Moore has what's been described as an almost "cult-like" following in Alabama.
He's the ultimate beneficiary of today's tribal politics. His supporters believe he embodies Christian values, will stand to bring the Bible back into politics and is prepared to defy politicians in Washington.
They see him as a true conservative who will consistently fight their side in America's bitter culture wars. But it's not his faith nor his opposition to abortion, immigration, and government that make him exceptional by US standards.
Over the years he has said things that can in total fairness be described as discriminatory, things that might have been expected to kill a political career. And yet his aspirations have thrived and he may well be about to become an American senator.
In 2006, Mr Moore wrote an editorial comparing the Koran to Hitler's Mein Kampf. The piece argued Muslims should not be allowed to serve in the US Congress.
In a television interview in 2005 he said he believes "homosexual conduct should be illegal".
Moore has also said Vladimir Putin, who says it's his duty to stop gay marriage, may be right on the issue.
Despite America's formal separation of church and state, Mr Moore believes "god's laws are always superior to man's".
He says Christianity should be favoured by the state.
In 1997, he suggested a link between teaching evolution in schools and drive-by shootings.
And, yes, he told an African-American at a rally during this campaign that America was last great during the time of slavery "when families were united - even though we had slavery".
All that made the Alabama race extraordinary even before eight women came forward to accuse him of sexual misconduct. One of them says she was just 14 at the time he allegedly assaulted her.
In the #MeToo moment that was what really got the world's attention.
But think about all the other things Mr Moore has said and this story should have grabbed our headlines from the beginning.