Josh Homme: Queens of the Stone Age frontman kicks female photographer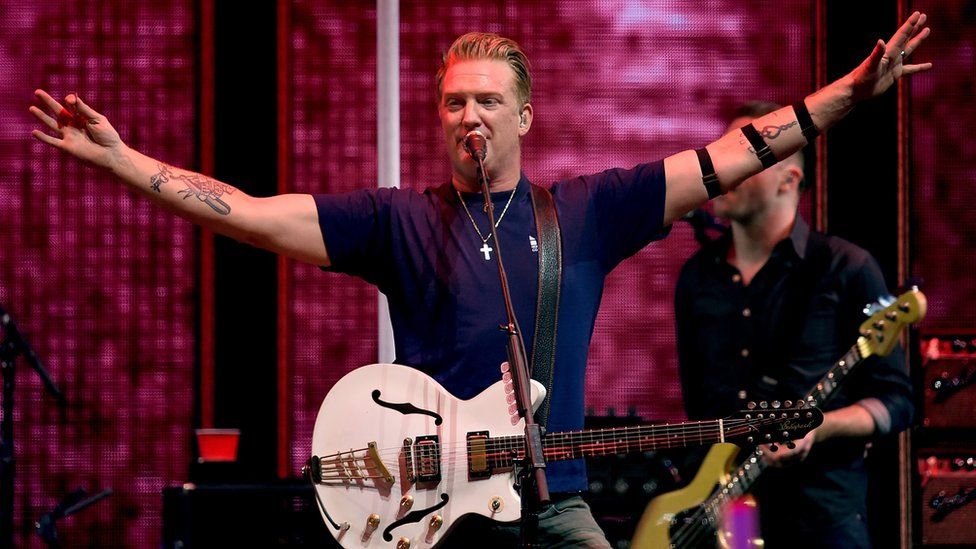 Queens of the Stone Age musician Josh Homme has apologised after a female photographer said he kicked her in the head during a concert in Los Angeles.
Chelsea Lauren posted a video on social media showing Homme kicking her camera as she took pictures close to the stage on Saturday night.
"I now get to spend my night in the ER. Seriously, WHO DOES THAT?", she said.
In a statement, Homme apologised and said he would never intentionally cause harm to someone.
"I saw him coming over and I was shooting away," she said. "He looked straight at me, swung his leg back pretty hard and full-blown kicked me in the face. "
She says she will file a police report.
"I hold nobody accountable for this but Josh himself", she added.
"I'd just like to apologise to Chelsea Lauren. I don't have any excuse or reason to justify what I did. I'm truly sorry and I hope you're okay," he said.
"I've made a lot of mistakes in my life, and last night was definitely one of them," Homme added.
In his earlier statement, he said that he was "in a state of being lost in performance" when he kicked over some equipment on stage and made contact with Ms Lauren.
But his post was criticised by some Twitter users, including Homme's friend, celebrity chef Anthony Bourdain, who branded it "weak".
Ms Lauren later thanked the Queens of the Stone Age fan base for their support following the incident.
Thank you to the #QOTSA fanbase for being a solid group of people overall and standing up for what's right regardless of your fandom. It is not falling on deaf ears and I really appreciate every message. ❤️ Seriously, thank you.

— Chelsea Lauren (@ChelseaLaurenLA) December 10, 2017
Josh Homme was due to appear on the Bedtime Stories series on the BBC children's channel, CBeebies
The episodes featuring Homme will now not be aired "until the matter is resolved", a spokesperson for the channel said.
It is not the first time Homme has been criticised for his on-stage behaviour.
In 2008, he was accused of homophobia after insulting a fan during a concert in Norway. He had threatened to kick the fan in the face before throwing a bottle at him.