USA Olympic doctor jailed over images of child abuse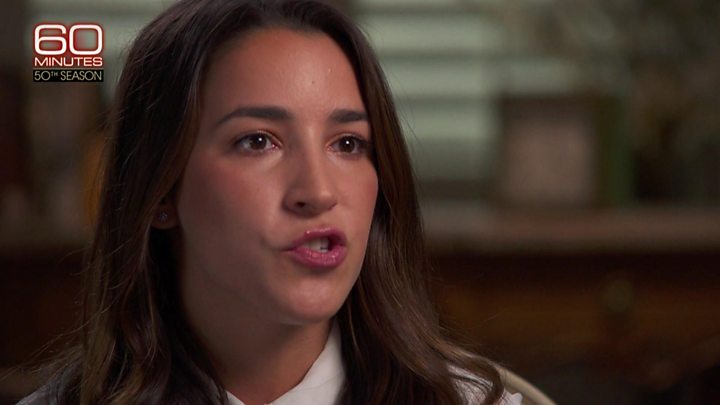 Former Team USA Olympic gymnastics sports doctor Larry Nassar has been sentenced to 60 years in jail for three counts relating to child sex abuse images on his computer.
He agreed a plea deal with prosecutors and was given 20 years for each count.
He also faces two criminal cases where he admits assaulting female gymnasts, and will be sentenced in January.
Three former US Olympians have accused him of sexual abuse under the guise of medical treatment.
Investigators said they had discovered more than 37,000 images showing child sexual abuse on Nassar's computers in 2016 - including of children as young as six.
US District Judge Janet Neff in Grand Rapids, Michigan gave Nassar, 54, the maximum sentence.
He had admitted possessing child pornography, receipt of child pornography and obstruction of justice for trying to destroy evidence last year as the police investigation gathered pace.
Larry Nassar pleads guilty to sex charges
How 'MeToo' is exposing the scale of sexual abuse
"There is a close link between the defendant's child-pornography activities and his prolific molestation of children," said Assistant US Attorney Sean Lewis, according to Michigan's MLive news website.
"The seriousness of his conduct, and the devastating impact it has had on so many, cannot be overstated."
"He abused my trust, he abused my body and he left scars on my psyche that may never go away... He needs to be behind bars so he will never prey upon another child," Olympic gold medallist McKayla Maroney wrote in a victim impact statement before Thursday's sentencing.
As well as the criminal cases against him, more than 130 women have filed civil lawsuits against Nassar alleging abuse.