'Lady bro' convinces Calgary airport to cut tampon price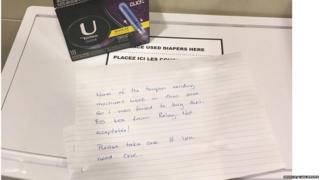 An anonymous traveller has become a folk hero for women after giving out free tampons in a Canadian airport.
The unidentified woman said she had to buy a box of tampons for C$15 ($12; £9) at the Calgary airport because the tampon vending machines were all empty.
She left the rest of the box in the bathroom with a note saying "please take one" and slamming the airport prices as "not acceptable".
After her good deed went viral on Reddit, prices were lowered to $6.25.
"None of the tampon vending machines work in this area so I was forced to buy this $15 box from Relay (an airport vendor)", read a handwritten note next to an open box of tampons in a Calgary Airport public bathroom.
"Not acceptable! Please take one if you need one."
The act of generosity inspired one fellow traveller to post a picture of the note on the social media site Reddit, which has since received over 10,000 reactions.
"Lady bro in the bathroom of the Calgary Airport! I appreciate you!" wrote Carlee Field on Reddit.
The post received enough attention that airport staff responded and the retailer changed their tampon prices, which were about three to four times higher than a typical drug store.
"Our maintenance team has checked and filled all vending machines in the washrooms, and our retailer Relay has adjusted the price of tampons to $6.25, effective immediately," wrote the verified Reddit handle for the airport.
Ms Field said the anonymous tampon-giver has won a victory for womankind.
"Fifty per cent of the population needs these things and she helped make a difference that day," Ms Field later told CTV Calgary.
"Thank you. From woman to woman, you're fantastic."