US delays ban on 'unsafe' cluster bombs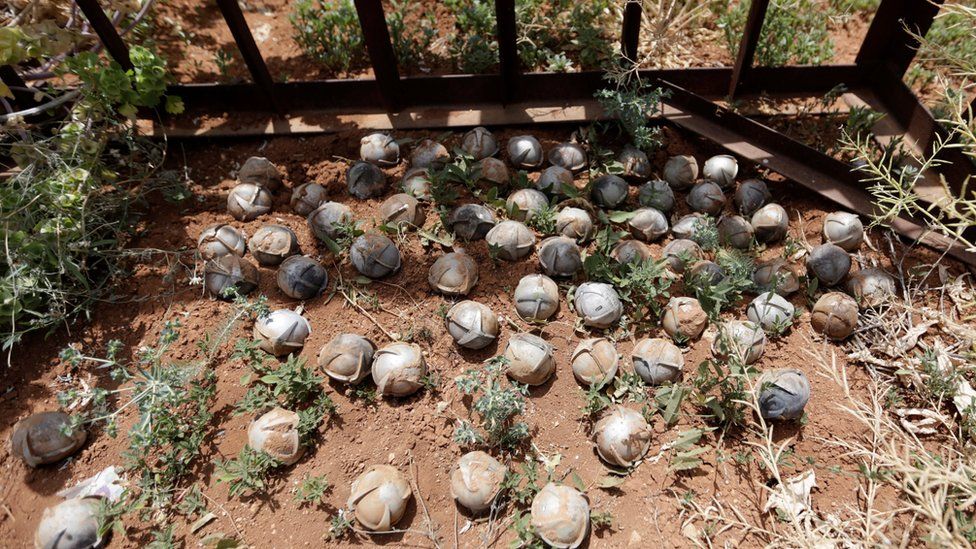 The Pentagon is putting off indefinitely a ban that was due to take effect in 2019 on older models of cluster bombs which are less safe.
The weapons scatter bomblets across a wide area, some of which fail to explode, posing a threat to civilians.
The US military had been hoping to update them with munitions that they say explode at least 99% of the time.
But it now admits that safety technology hasn't progressed enough to replace existing stockpiles.
"Although the Department seeks to field a new generation of more highly reliable munitions, we cannot risk mission failure or accept the potential of increased military and civilian casualties by forfeiting the best available capabilities," said a Pentagon policy memo, seen by Reuters news agency.
The memo called cluster munitions "legitimate weapons with clear military utility".
The US is not a signatory to a 2010 treaty which bans the use of cluster bombs because of their indiscriminate nature and the risk they pose to civilians both during and after being dropped.
The UK, France, Germany and Japan are among 108 states to have signed the treaty.
Some members of Congress and rights groups condemned the Pentagon's move.
Democratic Senator Diane Feinstein called it "unbelievable" and told the Associated Press it was a shame that the US would continue to be a "global outlier".
Human Rights Watch said the US military did not need cluster bombs. It said that the US had not used the munitions since 2003, with the exception of a single strike in Yemen in 2009.
The new Pentagon policy restricts the US from buying new cluster munitions that do not meet new standards outlined in its memo.
The standards include a method of making bomblets inoperable within 15 minutes of being armed, Reuters reported.
Some 860 of those killed were in Syria and 38 in Yemen, it said. Almost all were civilians and most were caught up in cluster munition attacks.
The Convention on Cluster Munitions prohibits all use, stockpiling, production and transfer of cluster bombs
The convention has 108 signatories and became binding international law in 2010
Cluster bombs pose particular risks to civilians because they release many small bomblets over a wide area
During attacks, they are prone to indiscriminate effects especially in populated areas
Unexploded bomblets can kill or maim civilians long after a conflict has ended, and are costly to locate and remove
Source: United Nations Office for Disarmament Affairs