Kate Steinle: Trump outrage over murder case acquittal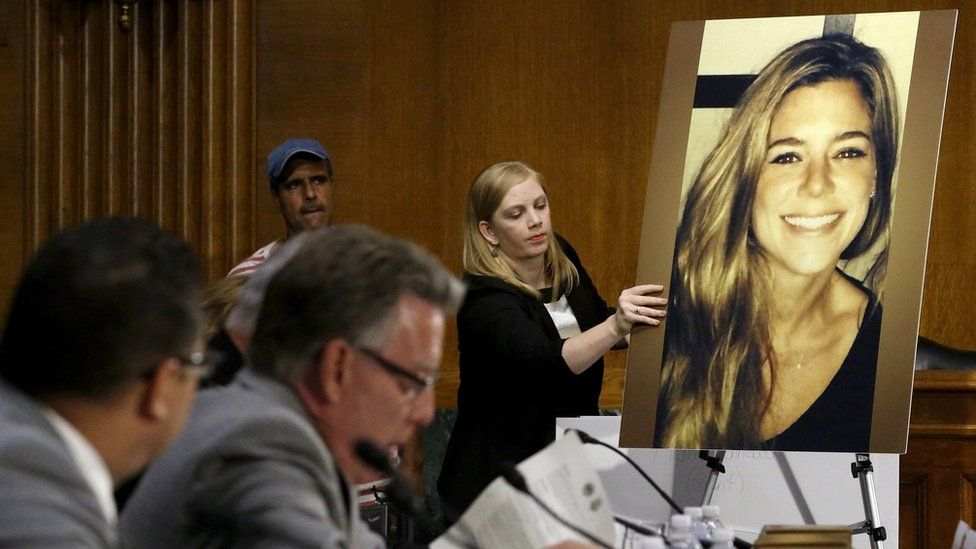 US President Donald Trump has condemned the acquittal of an illegal immigrant who shot dead a woman in San Francisco in 2015, claiming it was an accident.
The killing of Kate Steinle by Jose Ines Garcia Zarate, a Mexican national deported from the US five times, sparked a row over illegal immigration.
While the jury cleared him of murder and manslaughter, he was convicted of illegally possessing a firearm.
President Trump described the verdict as "disgraceful".
"No wonder the people of our country are so angry with illegal immigration," he said in a pre-dawn tweet on Friday.
A disgraceful verdict in the Kate Steinle case! No wonder the people of our Country are so angry with Illegal Immigration.

— Donald J. Trump (@realDonaldTrump) December 1, 2017
The Kate Steinle killer came back and back over the weakly protected Obama border, always committing crimes and being violent, and yet this info was not used in court. His exoneration is a complete travesty of justice. BUILD THE WALL!

— Donald J. Trump (@realDonaldTrump) December 1, 2017
"His exoneration is a complete travesty of justice. BUILD THE WALL!"
President Trump also decried the fact that Garcia Zarate's immigration status was deemed irrelevant by the California judge, and was not discussed in court.
Garcia Zarate did not deny shooting Ms Steinle, but said it was not deliberate.
He faces a potential sentence of between 16 months and three years after being found guilty on the charge of being a convicted criminal in possession of a handgun.
He had been released from prison by the San Francisco sheriff's department shortly before the killing.
Despite being in the country illegally, he was not handed over to immigration officials because San Francisco's "sanctuary" law means city authorities do not co-operate with immigration officials.
Republicans oppose the sanctuary city movement in cities, and the hashtag #BoycottSanFrancisco was trending in the US on Friday morning.
In a statement, Attorney General Jeff Sessions urged "the leaders of the nation's communities to reflect on the outcome of this case and consider carefully the harm they are doing to their citizens by refusing to co-operate with federal law enforcement officers".
"The Department of Justice will continue to ensure that all jurisdictions place the safety and security of their communities above the convenience of criminal aliens," he added.
Reason in the face of despair
By James Cook, BBC News, Los Angeles
Forget the politicians for a moment and think about Kate Steinle's family. The debate about immigration has been full of bluster on both sides but the people whose anguish is deepest have remained calm and nuanced.
"We're a country of kind people," said Ms Steinle's father Jim but, added her mother Kate Sullivan, "it was never meant to be a safe harbour for violent criminals".
To summarise their complex position, they believe a sanctuary city law should remain in place but that its implementation is flawed.
Such rational discussion in the face of despair should give the United States inspiration.
Garcia Zarate was charged in July 2015 with the shooting of Ms Steinle, 32, while she was walking with her father and a friend on a pier in San Francisco.
His defence team argued that the Mexican national had found a gun wrapped in a shirt under a bench on Pier 14, which is a popular tourist destination.
The gun went off as he picked it up, they said, with a bullet ricocheting into Ms Steinle, who died in the arms of her father.
Prosecutors contended he had intentionally fired the weapon.
Overnight, white supremacists left candles and messages saying "build the wall" on the pier, NBC News reported.
Shortly after taking office, Mr Trump signed an order withholding federal funds from sanctuary cities.
"The Constitution vests the spending powers in Congress, not the President, so the Executive Order cannot constitutionally place new conditions on federal funds," the judge ruled.
The jury was not told the killer of Kate was a 7 time felon. The Schumer/Pelosi Democrats are so weak on Crime that they will pay a big price in the 2018 and 2020 Elections.

— Donald J. Trump (@realDonaldTrump) December 1, 2017
The Trump government has already appealed the verdict.
During last year's presidential election campaign, Mr Trump frequently highlighted the case as he argued for tighter immigration controls and for sanctuary cities to be penalised.
He described the death of Ms Steinle as "a senseless and totally preventable violent act committed by an illegal immigrant".
In June, Mr Trump announced a plan called "Kate's law" - named for Ms Steinle - which he said would increase penalties for deportees who re-enter the US.
Defence lawyer Francisco Ugarte said after the verdict that the case had been used to "foment hate".