Trudeau apologises for Canada's discrimination against LGBT people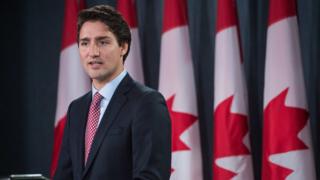 Canada's Prime Minister Justin Trudeau has apologised for historical injustices against the LGBT community.
During the Cold War, hundreds of gay men and women were fired from their government jobs and the military.
The government has earmarked C$100m ($78m, £58m) to settle a class-action lawsuit filed by LGBT victims.
Mr Trudeau has also proposed a bill in parliament that would allow the courts to expunge the records of people criminalised for their sexuality.
"It is with shame and sorrow and deep regret for the things we have done that I stand here today and say: We were wrong. We apologise. I am sorry. We are sorry," he said in the House of Commons on Tuesday.
Mr Trudeau's words were greeted by a warm round of applause from all parties.
The prime minister also spoke out about past discrimination against gay marriage and gay works of art, which were often banned as "obscene".
"While we may regard modern Canada as a forward-thinking and progressive nation, we cannot forget our past," he said.
During the Cold War, the Canadian government and military regarded gay employees as more vulnerable to blackmail by Soviet agents. They were interrogated about their sex life and forced to inform on their friends.
Mr Trudeau called it "nothing short of a witch-hunt."
The Canadian military ended discriminatory policies against gay men and women in 1992 after Michelle Douglas, a former Army officer, sued the government.
Four years later, the Canadian Human Rights Act was amended to include sexual orientation. Gender identity and gender orientation were added in 2017.
Mr Trudeau also said Canada must do more to end homophobia and discrimination, such as bans on gay men giving blood and the continued criminalisation of people who do not disclose their HIV status.
"We are all worthy of love. Whether you discover who you are at six, 16 or 60, we are all valid," he said.
This is not Mr Trudeau's first state apology as prime minister. On Friday, he apologised to indigenous victims of residential schools in Newfoundland and Labrador.
In 2016, he apologised for the Komagata Maru incident of 1914, when Canada turned away hundreds of Hindu, Sikh and Muslim passengers trying to emigrate from British-ruled India.