Harvard affirmative action 'investigated by Justice Dept'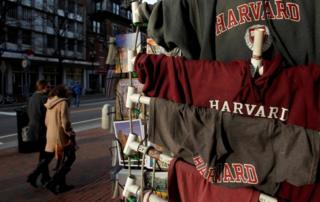 The US Department of Justice (DoJ) is reportedly investigating Harvard University's use of race in its admissions process.
A DoJ letter sent to Harvard earlier this month, and obtained by US media, accuses the university of failing to co-operate with the inquiry.
The probe reportedly stems from a civil lawsuit alleging that Harvard limited admissions of Asian-American students.
The DoJ said it "may file a lawsuit" if Harvard does not comply.
The letter, dated 17 November, was first obtained by the Wall Street Journal.
It said the Ivy League college is being investigated under Title VI of the Civil Rights Act of 1964, which bars discrimination on the basis of race or national origin for organisations that receive federal funding, the newspaper reported on Tuesday.
The letter also reportedly stated that Harvard had failed to comply with a deadline to provide documents related to the university's admissions record.
Harvard disputes that its admissions policy violates US law.
Earlier this year, the university said more than half of its freshmen class were women, more than one in five were Asian and nearly 15% were African-American, Reuters news agency reports.
"As we have repeatedly made clear to the Department of Justice, the university will certainly comply with its obligations under Title VI," Harvard spokeswoman Anna Cowenhoven said in a statement on Tuesday.
"We have an obligation to protect the confidentiality of student and applicant files and other highly sensitive records, and we have been seeking to engage the Department of Justice in the best means of doing so."
The allegations of racial discrimination stem from a 2014 lawsuit filed in Boston by a group called Students for Fair Admissions, on behalf of 64 Asian-American groups.
In a statement to BBC News, the group said that the DoJ's reported formal investigation was a "welcome development".
"For decades, Harvard has unfairly and unlawfully restricted the number of Asians it admits," said Students for Fair Admission president Edward Blum.
"Harvard's Asian quotas, and the overall racial balancing that follows, have been ignored by our federal agencies for too long."
Academic affirmative action, which involves favouring minorities during the admissions process in order to promote campus diversity, has long proved controversial in the US.
The US Supreme Court ruled in 2016 that affirmative action can continue to be used by public universities when considering minority students.
Affirmative action - known as positive action in the UK - has been challenged in courts several times before, including by Mr Blum and the Students for Fair Admission group.
The Department of Justice has not commented on Tuesday's media reports, but a spokesman for the agency said it "takes seriously any potential violation of an individual's civil and constitutional rights".
If found in violation of the Civil Rights Act, Harvard could lose federal funding.
The school was given until 1 December to hand over documents on its admissions policies.