Canada drunk driver cleared of hit-and-run death of knifeman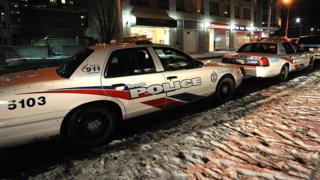 Prosecutors have dropped manslaughter charges against a Canadian man who ran someone over to save a woman from allegedly being attacked.
Anthony Kiss, 31, killed Dario Romero, 37, in June when he saw him chase Alicia Aquino with a knife in Toronto.
Mr Kiss, who tested just over the legal limit for alcohol, fled the scene.
After much public attention, the Crown agreed to drop the most serious charges on Tuesday, reducing his maximum sentence from life to six months.
"I didn't want death, that's why I was trying to do this, do what I did, to prevent death," Mr Kiss told the Toronto Star in July.
He is still charged with driving under the influence, failing to remain at the scene of an accident and dangerous driving.
"Being under a cloud of allegation for unlawfully killing someone was very difficult for Mr Kiss," his lawyer Michael Lacy told the BBC.
"The loss of life was obviously tragic. At the same time he has always maintained he acted as he did to protect another person's life."
Mr Lacy said he and his client were reviewing the next steps related to the remaining charges.
Mr Kiss said he saw Romero pull a knife on a woman at a bus stop, then chase her into the street, while he was waiting at a red light in his car, with his girlfriend in the passenger seat.
He said his instincts as a security guard kicked in and he ran over Romero, who died from the impact of the crash.
Mr Kiss then panicked and drove away.
He said he had only had a few beers over eight hours and was not drunk. He tested just above the legal limit for driving under the influence of alcohol.
Ms Aquino, 59, did not know her attacker, and supports the prosecution's decision.
"I owe my life to him," Ms Aquino told the Star in July. "He has four children, and it's not fair to charge this man."
But Romero's family is devastated.
They say he was a loving father of a 12-year-old boy who suffered from mental illness and was diagnosed with paranoia.