Breakfast at Tiffany's: New York jewellery store opens cafe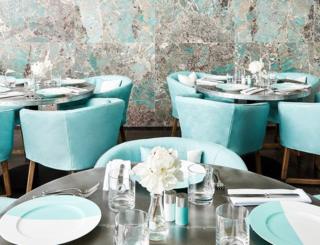 Shoppers on Fifth Avenue can now order breakfast at Tiffany's, 56 years after the movie title popularised the famous New York City jewellery store.
Luxury jeweller Tiffany's & Co opened a cafe on Friday as part of a renovation of their Manhattan flagship store.
The debut of the Blue Box Cafe follows the 1961 film in which actress Audrey Hepburn snacks on a pastry while gazing into a shop window on Fifth Avenue.
But unlike character Holly Golightly, shoppers can now dine within the shop.
The restaurant, which will serve American food, sits four floors above the street and overlooks Central Park.
"The setting is as inviting as the food is inspiring, serving customers who have always dreamed of having Breakfast at Tiffany's," the company said in a press release, referencing the film.
The room is decorated by the company's signature robin's egg blue, and the floor also features Tiffany's new home accessories collection including a $1,000 tin can made of sterling silver.
Breakfast and lunch are $29 and $39 respectively, with two courses each, according to Eater.com, which reviewed the menu.
The cafe is first come first served and on opening day they were fully booked.
Three friends from Pennsylvania who travelled to New York for the day told the BBC they had "Tiffany Tea" and "White Wedding Tea" after shopping for bracelets in Tiffany's store.
"It's a must," said Terry Beasley. "Unforgettable. We made a memory in the city here today.
"Not everybody can say they've had breakfast at Tiffany's."
They said they were satisfied with the experience but Ms Beasley's friend, Jayne Paris, wished there had been more commemoration of the movie.
"Where was George Peppard?" she asked.
Wall decorations include diamonds, chrome figurines and expensive house wares.
Breakfast at Tiffany's is based on the Truman Capote novella about a country girl who moves to New York and joins high society.
The film won best original song at the 1961 Academy Awards for "Moon River, and Audrey Hepburn was also nominated for best actress for her role in the film.
In 2012, it was added to the US National Film Registry at the Library of Congress.
The registry is made up of films that represent "important cultural, artistic and historic achievements in filmmaking".