Roy Moore: Conservatives back firebrand after abuse report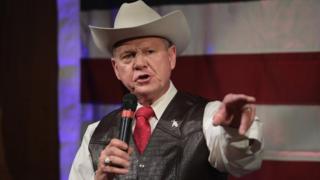 Hardline conservatives are circling the wagons round embattled Alabama Senate candidate Roy Moore a day after he was accused of sexually abusing a girl.
While establishment Republicans suggested the ex-judge should quit the race, many others are standing by him.
The Republican firebrand has branded a Washington Post report that he preyed on a 14-year-old as "completely false".
One of his defenders was quoted as saying he would vote for him over a Democrat even if the claim were true.
The Republican party's Senate campaign wing ended its fundraising pact with Mr Moore on Friday.
But at a speech in New Hampshire, former White House adviser Steve Bannon poured scorn on the allegations.
He compared the report to the release of a videotape last year that showed Donald Trump boasting about grabbing women's genitalia.
Mr Bannon dismissed the "Bezos-Amazon-Washington Post" on Thursday night as being "purely part of the apparatus of the Democratic Party".
Speaking on the Fox News Sean Hannity radio show on Friday, Mr Moore said people were "innocent until proven guilty".
He told the conservative commentator that if any candidate was afraid of accusations "you might as well not run, because when you run you're going to get allegations".
Mr Moore, a populist former chief justice in Alabama, was widely expected to defeat a Democratic rival, Doug Jones, in next month's election.
But the first poll of Alabama voters since the abuse claims emerged puts Mr Moore and Mr Jones in a dead heat on about 46% each.
The chairman of the Bibb County Republican Party, Jerry Pow, told the Toronto Star: "I would vote for Judge Moore because I wouldn't want to vote for Doug.
"I'm not saying I support what he did."
Paul Reynolds, a Republican National Committee member for Alabama, told the Hill, a US political publication, he trusts Russian President Vladimir Putin more than the newspaper that published the claims.
"My gosh, it's The Washington Post," he said. "If I've got a choice of putting my welfare into the hands of Putin or the Washington Post, Putin wins every time."
Alabama's state auditor Jim Zeigler came under fire for his defence of Mr Moore.
He told the Washington Times newspaper: "Take Joseph and Mary. Mary was a teenager and Joseph was an adult carpenter. They became parents of Jesus."
In a Republican party election in September, Mr Moore, a Christian conservative, defeated a mainstream rival, Luther Strange, who was backed by the political establishment.
Scenting blood after Thursday's report, Senate Majority Leader Mitch McConnell told reporters "if these allegations are true, he [Mr Moore] must step aside".
A number of other Republican senators swiftly echoed that sentiment. Some said unequivocally Mr Moore must go.
But deep divisions in the party were exposed down in Montgomery, Alabama, where the mood was defiant.
Jonathan P Gray, a Republican consultant, told the Washington Post: "I think it was already perfectly well stated that no one in Alabama gives a s*** what Mitch McConnell or John McCain thinks we should do."
With many Moore voters also being diehard Trump supporters, the White House walked a fine line in its statement.
Press secretary Sarah Huckabee Sanders said President Trump believed "if these allegations are true, Judge Moore will do the right thing and step aside".
But she said "a mere allegation" from years ago cannot be allowed to destroy someone's life.
The Washington Post article allegations date to 1979 when Mr Moore was an assistant district attorney.
The report states he approached Leigh Corfman, 14, outside a court ahead of a child custody hearing in her parents' divorce case.
He later allegedly picked up the teenager near her home, and drove her to his house in the woods where he sexually assaulted her, the newspaper claims.
Three other women contacted by the Post said that they went on dates with Mr Moore decades ago when they were aged between 16 and 18 and he was in his 30s.
Mr Moore's campaign has said of the allegations, "this garbage is the very definition of fake news and intentional defamation".