'Embarrassing' car insurance photo gaffe shared online
By Rozina Sini
BBC UGC and Social News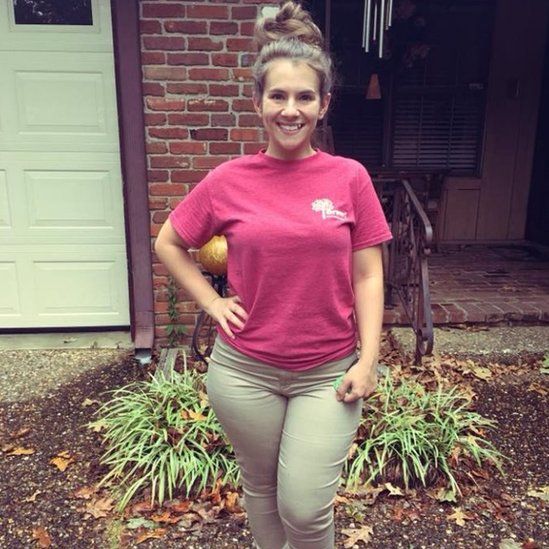 When Alyssa Stringfellow from Arkansas, US, tried to get insured on her grandmother's car it seems she got a bit mixed up by the details requested.
Instead of sending pictures of her car, Alyssa sent the insurers side and front photos of herself.
The 25-year-old teacher was left red-faced when the insurer contacted her by email to point out the mistake.
"I am going to need pictures like you just took, except it needs to be of your vehicle," it read.
Instead of trying to forget the awkward blunder, Alyssa was good natured about it all and decided to share the photos on social media.
"I have been debating on whether or not to post this all day because it is PRETTY embarrassing to admit, but I have decided to go ahead and share my really, really...REALLY blonde moment with you guys." She posted on Facebook.
Alyssa then described how the mix-up unfolded when her grandmother told her about the details the insurers had requested.
"She said he would need my driver's licence number, my date of birth, and a picture straight on and a picture taken from each side. She gave me his email address and I emailed the information along with the pictures that night," She explained.
"The crazy thing is, I asked my mom to take the pictures after I got off work, and we discussed why in the world he would need pictures of me, never once considering it was supposed to be of my car.
"But, you know what they say, you either have book smarts or street smarts, and I definitely do not have the latter," she joked.
Alyssa's embarrassing admission has been shared more than 20,000 times since being posted on Facebook last week, with users continuing to post their reactions.
While hundreds of other people admitted they would probably have made exactly the same mistake: "I would do something like that too," posted another Facebook user. "Don't feel bad! We all have those moments. All we can do is shake our heads and say God, what was I thinking!"
It seems Alyssa's mistake is not so unique. The car insurance photo gaffe has happened at least once before.
Last year Miranda Santos tweeted about the time her mum thought side and front pictures had been requested of her personally by her car insurers.
Miranda posted the pictures in a Tweet in 2016 which was shared more than 19,000 times and liked more than 29,000 times.