Karen Darke hand-cycles 2,000 miles down N America coast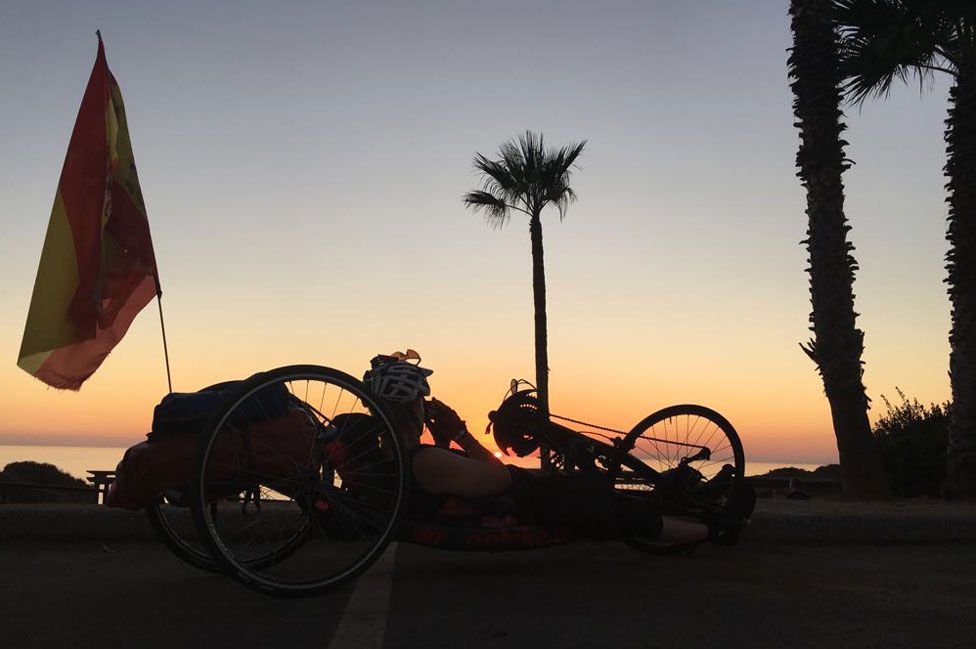 Cycling from Canada to Mexico would be a tough challenge for most cyclists. Incredibly, Karen Darke "pedalled" the 2,000 miles (3,219km) using only her arms.
The British hand-cyclist completed America's Pacific Coastal Trail in 37 days.
Darke spent an average of six hours on her bike each day - travelling between 50 and 75 miles - as she made he way down the US West Coast.
Arriving at Tijuana, Mexico, the 46-year-old Paralympic gold medallist said: "This has been my toughest long-distance ride yet. I've never ridden for so long each day - day after day after day - and with so little rest.
"Yet, also, it has been incredibly uplifting. There have been many great moments over the last six weeks."
Darke, who was paralysed from the chest down in a climbing accident aged 21, is no stranger to challenging adventures.
She has skied across the Greenland ice cap, hand-cycled over the Himalayas and travelled the length of Japan by bike, skis and swimming.
She has also climbed Europe's tallest mountain, 15,774ft Mont Blanc, and scaled the 3,000ft El Capitan rock face in California's Yosemite National Park.
Her most recent hand-cycling adventure along the length of America was conceived as part of an audacious new project, Quest 79.
Over several years, Quest 79 will see Darke travel seven continents as she raises money for the Spinal Injuries Association.
She explained: "After an exciting year of sport in 2016, when I won gold in the Paralympics in Rio de Janeiro, I was feeling burnt out and emotionally flat. I needed something to give me a new meaning and purpose."
Inspired by learning her gold medal - in a road time trial - was the 79th British medal of the games and that 79 was the number for gold in the periodic table, she made it the theme for her next big challenge.
"I wanted my project to be inspiring for other people as well as offering me a goal. More important to me than winning a gold medal is the inner gold, which is a discovery of what is possible when the power of thought, clear intention and good people come together."
She had already completed the first expedition of Quest 79 - gold in Rio. Next came hand-cycling almost 800 miles through Patagonia. Her latest achievement along the coast of California, the Golden State, is her third Quest 79 expedition.
"As usual, I started the trip thinking it would be impossible. I had many doubts at the outset."
Her fears about the toll it would take on her body were well founded. She suffered the discomfort of temperatures as high as 113F and battled strong winds in southern California.
Darke's legs also became difficult to control. She said: "I have no feeling in my legs and usually they stay quite still on my bike.
"But for an unknown reason they kept kicking out and twitching. It was alarming and frustrating when I was trying to focus on turning the pedals with my arms."
And she was hit by a painful stress injury in one arm. Darke said: "The pedals and steering system are combined and both are controlled by my hands and arms.
"I found that the camber of the roads was steeper than I have experienced before and this meant I had to pull harder with one arm to stay in a straight line.
"The knock-on effect was a very sore left forearm for most of the ride."
But Darke, who was born in Yorkshire and now lives in the Scottish Highlands, is a master at coping with the seemingly impossible. Her so-called inner gold appears to give her unusual drive.
"I think even before becoming paralysed, I was a determined kind of person. I don't like to think that I can't do things, rather I prefer to think, 'How can I overcome the hurdles to do things?'
"I look at the negatives and try to turn them into positives and in this way I learn more about how to cope in general and how to achieve big challenges."
Darke recounts many "fantastic highs" of the ordeal such as the time when, by chance, the riders encountered an event in northern California that closed a road through the huge trees of Redwood National Park.
"We rode a long stretch of beautiful tarmac that was traffic free and gave us the most amazing views of the giant trees."
Another highlight was crossing the Golden Gate Bridge between San Francisco and the Pacific Ocean - "something very special".
And reaching the border to Mexico at the end of the ride, tired and hungry, was "the end of something so incredible".
"How could I not feel upbeat at completing something I had worried would be impossible?"
Now she looks ahead to the next stage of Quest 79, ed plans for next year's The Water Way, to hand-cycle Australia's Murray River.
But first she has a hoped-for place in the Paratriathlon at the Gold Coast 2018 Commonwealth Games to train for.
She said: "There was a time, just after my accident, when I couldn't sit up or get out of my bed so even moving 79 meters myself would have been a big deal.
"Now I am achieving Quest 79. That feels so very good."