Comey on Twitter: Ex-FBI chief confirms 'secret' account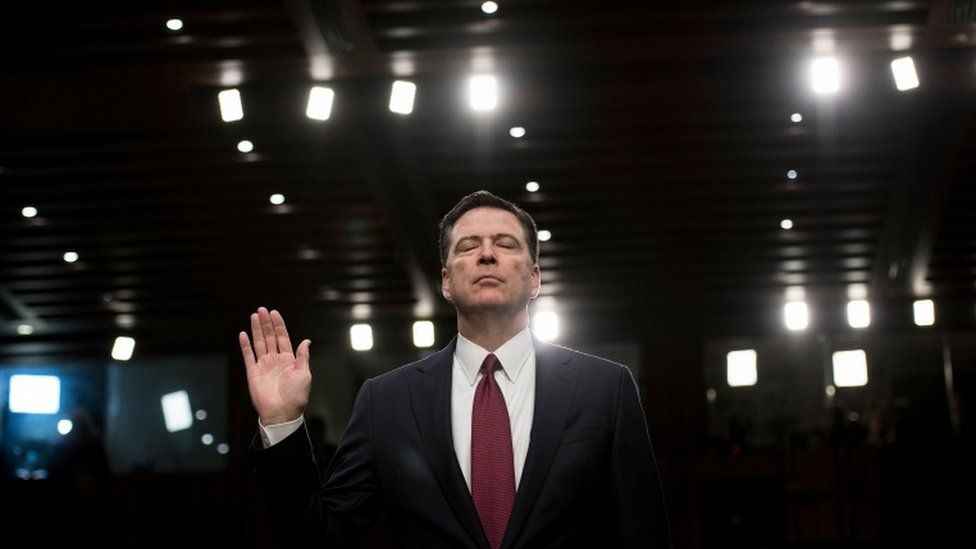 After months of online speculation, former FBI Director James Comey has confirmed that a "secret" Twitter account does belong to him.
The alias "Reinhold Niebuhr" account posted a series of mysterious images of Mr Comey on Monday.
They were taken in Iowa, fuelling some light-hearted speculation that he could be considering a 2020 presidential bid.
The Trump administration said he was "terminated and removed from office" over his handling over the investigation into Hillary Clinton's use of a private email server.
The images' references to the US state of Iowa caused some users to share the images, joking that: "He's running!"
The state is traditionally a prominent stop for candidates in US presidential elections.
But local media dismissed the idea, and said Mr Comey was probably on a family visit as his wife is from the state and suggested that it could have been his father-in-law's 90th birthday at the weekend.
The Reinhold Niebuhr name on the account refers to an American theologist that the former FBI director reportedly wrote his university thesis on.
It has no picture and follows just a handful of journalists and media accounts.
After the unmasking, Twitter users began photoshopping the wistful images, which included Mr Comey standing alone in a cornfield and staring down an open road.
One user placed edited film character Forrest Gump running past Mr Comey.
US lawyer Benjamin Wittes, a close friend of Mr Comey, then cleared up any remaining confusion and confirmed in a tweet that the account did belong to him.