Canada indigenous restaurant sparks debate with seal tartare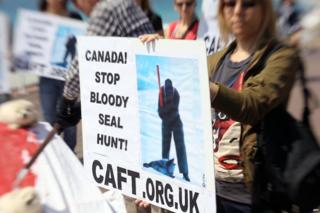 Seal tartare might not be to everyone's taste, but Canadian indigenous advocates say they have every right to serve the raw snack.
Their response comes after an online petition urged Toronto restaurant Ku-kum Kitchen to take seal off the menu.
A counter-petition by an indigenous advocate says the boycott is an attack on Inuit culture and hypocritical.
The restaurant's chef, Joseph Shawana, from the Wikwemikong Unceded Reserve, says seal meat is part of his culture.
"We know there'll be a little bit of people that will be upset about it," he told the CBC when his restaurant opened in June.
"But it's part of the northern community's culture. So we're trying to pay homage to them, as we do with everything else."
Jennifer Matos, who started the online petition against the restaurant, wrote that "we know that the killing of innocent beings is wrong".
"The restaurant claims they are the only restaurant in Toronto that sells seal meat and we do not want this to become a new trend for restaurants," she wrote.
The petition has earned about 3,200 signatures.
In response, Toronto artist Aylan Couchie, who is of the Anishanaabe tribe, from the Nipissing First Nation, created her own counter-petition, urging people to support the restaurant.
"It's time to stop the cycle of wilfully ignorant Canadians who continue to impose their ill-considered values upon Indigenous practices and people," she wrote in the counter-petition which has received about 2800 signatures.
Ms Couchie also said the attack against this one indigenous business is hypocritical, when "there are literally hundreds of restaurants in Toronto that serve meat".
Ms Matos said in the online petition that the restaurant sources its seal meat from a commercial hunter, and thus has "nothing to do with the indigenous hunt".
In a message to Ms Couchie, which she posted on Twitter, Mr Shawana said he spent four months researching his seal supplier, which is federally regulated.