USS John S McCain: Navy sacks officers over collision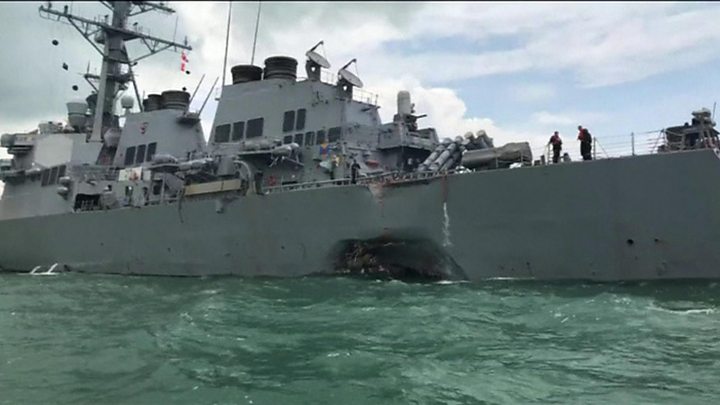 Two top Navy officers from the wrecked USS John S McCain have been fired in the wake of the deadly collision in August that killed 10 sailors.
Cmdr Alfredo J Sanchez, the commanding officer, and Cmdr Jessie L Sanchez, the executive officer, were sacked due to a "loss of confidence", the Navy said.
The USS John S McCain was east of Singapore when it collided with the oil tanker Alnic MC on 21 August.
The collision was the fourth such incident in a year.
"While the investigation is ongoing, it is evident the collision was preventable," a statement from the Navy said on Wednesday.
"The commanding officer exercised poor judgment, and the executive officer exercised poor leadership of the ship's training program."
The collision left a large hole in the destroyer's port side - the left-hand side of the vessel facing forward - and flooded compartments including crew berths. Five sailors were injured while 10 others were killed.
The Alnic MC sustained damage to a tank near the front of the ship, but none of its crew were injured and there were no oil spills.
The Navy said the destroyer experienced a loss of steering control before the incident but it is unclear if that led to the crash.
In the aftermath of the collision, Vice Adm Joseph P Aucoin was dismissed as commander of the Seventh Fleet.
The Seventh Fleet, based in Yokosuka, Japan, is the largest forward-­deployed fleet in the US Navy, with some 50 to 70 vessels and submarines.
The incident also triggered a rare worldwide "operational pause" of the US Navy's fleets as well as a review of operations.
Cmdr Alfredo J Sanchez was re-assigned to Commander, Naval Forces Japan, while Cmdr Jessie L Sanchez was sent to Ship Repair Facility in Yokosuka.
Previous collisions
The incident marked the fourth time this year that a US Navy vessel has been involved in an accident in Asia.
Two months ago, seven US sailors were killed when the USS Fitzgerald collided with a container ship in Japanese waters near the port city of Yokosuka.
Those who died were found in flooded berths on board the ship after the collision tore a gash under the warship's waterline.
In May, a guided missile cruiser collided with a South Korean fishing vessel, while in January another cruiser ran aground near the fleet base in Yokosuka.