Alina Sheykhet murder: Ex-boyfriend charged in her death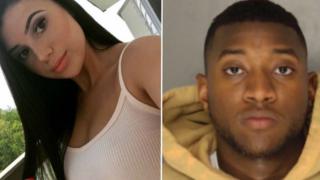 The ex-boyfriend of a college student found slain in the US state of Pennsylvania has been arrested and charged in her death, police say.
Matthew Darby, 21, was charged with the criminal homicide of Alina Sheykhet, whose body was found by her parents in her bedroom on Sunday.
Police had been unable to locate Mr Darby since Ms Sheykhet's death.
A claw hammer and two knives that may have been used in her murder were found near her home, police said.
Mr Darby was arrested early on Wednesday in Myrtle Beach, South Carolina.
It comes a day after Mr Darby's attorney, David Schrager, urged his client to turn himself in despite a lack of charges against him.
Ms Sheykhet, a physical therapist student at the University of Pittsburgh, was pronounced dead at the scene at her Pittsburgh home from "blunt-force trauma", according to the Allegheny County Medical Examiner's Office.
She was last seen at about 24:30 local time (04:30 GMT) in the common area of her apartment before entering her room.
Call records from her phone, which police were unable to locate when she was found, showed that she received five unanswered calls from a phone number later discovered to be Mr Darby's between 04:15 and 04:55 local time (08:15 and 08:55 GMT).
Video surveillance from a business near Ms Sheykhet's apartment showed Mr Darby dropping a shiny object into a sewer and placing an object in a dumpster before walking away.
She sought a restraining order against Mr Darby after he allegedly broke into her apartment on 20 September. He was arrested and charged with felony criminal trespass on 26 September.
In her request for a protection order, Ms Sheykhet said Mr Darby "climbed up the gutter on the side of the house and broke through the second-floor window of my home," the Pittsburgh Post-Gazette reported.
"He did this because I left him and stopped answering his phone calls."
Mr Darby is awaiting trial on rape and other sexual assault charges against him in Indiana County.
He pleaded not guilty and posted a $10,000 (£7,500) bail in that case in March.
The bond was revoked on Sunday for a violation of bail release conditions. His preliminary hearing was scheduled for 17 October.
Ms Sheykhet's parents reportedly went to pick her up on Sunday morning but her roommates said she was still sleeping, according to her father, Yan Sheykhet.
When she did not answer their calls, her father kicked open the door and found her on the floor, he told the Post-Gazette.
He described his daughter as an aspiring physical therapist who loved to dance and sing.
"I lost my beautiful princess," he told the Pittsburgh Tribune-Review.
The University of Pittsburgh said in a statement the campus was "saddened and extends its deepest sympathies to the student's family and those who knew her".