Texas student charged with campus officer murder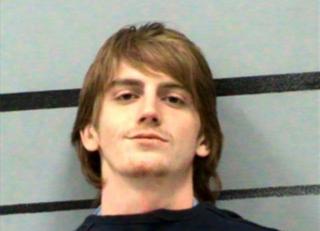 A 19-year-old Texas student has been charged with murder for fatally shooting a campus officer while in custody, police say.
Hollis Daniels allegedly opened fire as he was being questioned after officers found evidence of drugs in his dorm room at Texas Tech University.
The suspect reportedly removed the victim's body camera before fleeing the scene at the Lubbock city campus.
He was caught by police in a nearby car park.
It was unclear whether the student had a gun on him when he was taken to the station or if he took the weapon from an officer.
The events unfolded after police made a student welfare check on the teenager on Monday evening at Texas Tech University, according to campus police Chief Kyle Bonath.
Drug-related evidence and drug paraphernalia were discovered in the freshman's room.
Police took him into custody and were preparing to transfer him to Lubbock County jail when he allegedly opened fire.
The officer's stolen body camera was later recovered by police, according to NBC affiliate KCBD.
The policeman was named at a press conference on Tuesday as Floyd East, 48.
He had been on the force since 2014 and is survived by his wife and his two daughters.
The student was apprehended in the car park near Lubbock Municipal Coliseum.
The suspect was charged with capital murder of a peace officer, according to the Lubbock County Sheriff's Office.
Texas Tech President Lawrence Schovanec said: "The family of the officer is in the thoughts and prayers of the Texas Tech community."
Texas Governor Greg Abbott also issued a message of condolence.