Trump Twitter row with top Republican Senator Bob Corker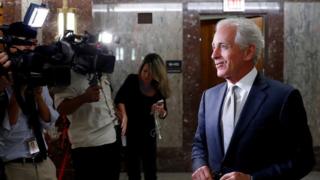 US President Donald Trump has had an ill-tempered exchange with a leading Republican senator, aggravating already poor relations between the two men.
Foreign Relations Committee head Bob Corker was a "negative voice" and "largely responsible for the horrendous Iran Deal", Mr Trump tweeted.
Mr Corker hit back that the White House had become an "adult day care centre".
He was considered for the job of secretary of state by Mr Trump last year but they have since clashed.
Analysts suggest Mr Trump's tirade on Sunday morning may have been prompted by Mr Corker's message of support last week for Secretary of State Rex Tillerson, which was also seen as a jab at the president.
He was quoted by media as saying that Mr Tillerson was "in an incredibly frustrating place" where he "ends up not being supported in the way that I hope a secretary of state would be supported".
On Wednesday Mr Tillerson denied rumours that he was about to resign.
Last month Mr Corker announced that he would not seek re-election at next year's mid-term elections. He has been an ardent supporter of the 2015 agreement to curb Iran's development of nuclear weapons.
Mr Trump has sharply criticised the deal on many occasions and is expected to de-certify it next week.
In a series of tweets, Mr Trump said: "Senator Bob Corker 'begged' me to endorse him for re-election in Tennessee. I said 'NO' and he dropped out (said he could not win without my endorsement).
"He also wanted to be Secretary of State, I said 'NO THANKS.' He is also largely responsible for the horrendous Iran Deal!
"Hence, I would fully expect Corker to be a negative voice and stand in the way of our great agenda. Didn't have the guts to run!"
Mr Corker responded: "It's a shame the White House has become an adult day care center.
"Someone obviously missed their shift this morning."
The two men previously clashed in August when the senator criticised Mr Trump's response to the clashes between white supremacists and anti-fascist demonstrators in Charlottesville, Virginia.
Mr Trump responded by tweeting about Mr Corker's apparent hesitation about running for re-election.