Where Americans feel like second-class citizens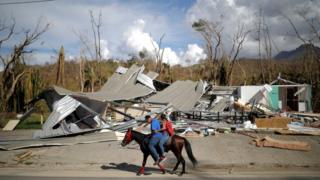 For nearly 3.5 million people on Puerto Rico, there is a new way of life to get used to.
Without electricity, the day now starts closer to sunrise and comes to a halt once it gets dark. Communications are near impossible; there is little sense of what is happening in the outside world without TV or the internet.
Credit card machines don't work and cash dispensers do no dispensing. In the tropical heat and humidity, the air conditioners no longer hum.
The current projection is that a quarter of Puerto Rico might have its electricity supply back by December.
It is truly extraordinary that this is happening in a territory belonging to the most powerful economy in the world.
The island may not be a "state" of the USA, but Puerto Ricans are natural-born American citizens. They can travel back and forth to the US mainland as they please and everyone I met in Puerto Rico had connections with the continental USA.
Lesley Quinones, 33, whom we found after her home in the town of Loiza was destroyed, had spent years living in Syracuse in New York state until her mother asked her to come back to Puerto Rico so the two could be closer.
Lesley, her five children and her granddaughter Camilla are now sleeping in a school classroom. She told us she felt the US government had forgotten people like her.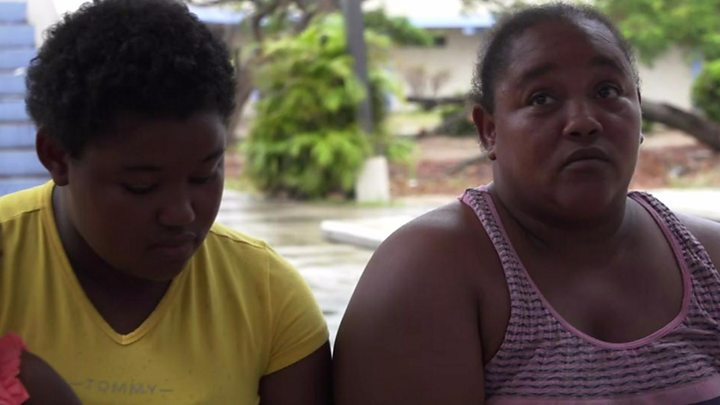 Luciano Delgado, who is in his 60s, was in his home in the southern town of Ponce when the hurricane brought it crashing down around him - mercifully sparing his life and his wife's.
He had lived in several cities on the US mainland, including Chicago, where he stayed for years before retiring to the island on which he was born.
Luciano's son Angel serves in the US Navy. He's currently deployed in east Asia and the two have been trying desperately to get over the massive logistical hurdles to talk to each other since the hurricane, so far without success.
Many of the US troops who are now working in Puerto Rico to help after the disaster are themselves Puerto Rican. At the emergency US command centre, it appeared there was as much Spanish spoken as English by those in uniform.
Those troops serve America in whatever way their commanders see fit.
But in spite of their sacrifices, many Puerto Ricans feel this disaster has been a reminder that they are not viewed as American as those on the mainland.
Money and troops were committed to the relief effort but it took time and there was not the same preparation by federal agencies in Puerto Rico ahead of Hurricane Maria as there was, for example, in Florida before Irma, a few weeks earlier.
Nine days passed before Lesley and her children received a mattress to sleep on in the school in Loiza. And Luciano says he has still not laid eyes on a single American emergency worker since the hurricane.
In the normally bustling old part of the capital San Juan, is the Paseo de los Presidentes or Walkway of Presidents. There, looking out onto the empty street, are nine life-sized statues of the US presidents who visited Puerto Rico while in office.
Franklin D Roosevelt sits in his bronze wheelchair, his beloved Scottish terrier beside him. JFK is dressed in a fashionable bronze blazer and slacks… and a tall, slim Barack Obama reaches out a bronze hand.
A 10th statue will be added to the walkway - presumably when Puerto Ricans don't have more urgent issues to deal with - of a man who has been widely criticised here for his response to the hurricane.
On his visit here, the President Trump joked about how much Puerto Rico was costing the US government because of the emergency and compared the Puerto Rican plight to what he called a "real catastrophe" like Hurricane Katrina.
And there was outrage from local journalists and officials at the way he flung paper towels at storm refugees like T-shirts at a campaign rally.
Puerto Ricans never chose Donald Trump. But they never chose JFK or Barack Obama either. They are not eligible to vote in presidential elections, or decide their own foreign policy. They are, though, entitled to the same emergency response as people in Texas or Florida or Louisiana.
Many feel they simply didn't get that, and put it down to being viewed as second-class American citizens.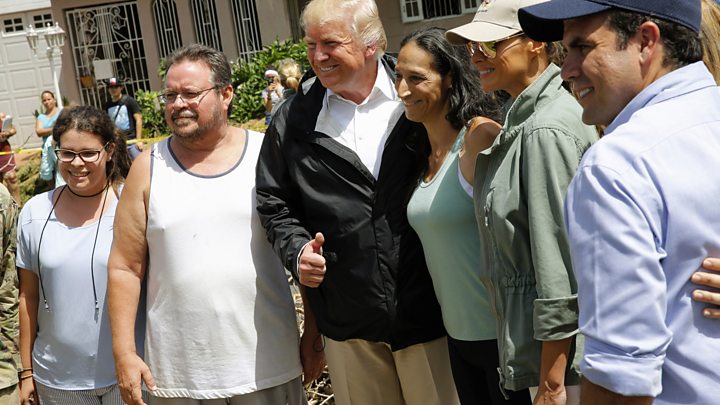 There have been several referenda here on the island's status; most recently showing Puerto Ricans lean more towards wanting to be America's 51st state rather than complete independence or remaining a US territory.
In the end, though, all those votes were little more than an opinion poll - it is Washington that will decide the island's future.
But for many Puerto Ricans we spoke to, the response to Hurricane Maria made them feel Washington is simply not interested in bringing them more into the American fold.