US defence chief Mattis suggests backing Iran nuclear deal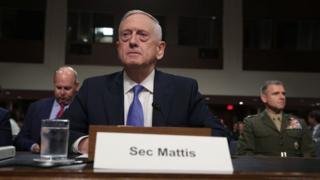 The US should consider staying in the Iran nuclear deal, Defence Secretary James Mattis has suggested.
Asked in a Senate hearing whether he thought this was in the national interest, he said that it was.
President Donald Trump, who is highly critical of the deal, is to decide by 15 October whether Iran is complying. The White House has not commented on the defence secretary's remarks.
The 2015 accord was designed to prevent Iran developing a nuclear weapon.
"I believe at this point in time, absent indications to the contrary, it is something that the president should consider staying with," Mr Mattis told the Senate Armed Services Committee in Washington.
"If we can confirm that Iran is living by the agreement, if we can determine that this is in our best interest, then clearly we should stay with it," he added.
Last month, President Trump said Iran was keeping to the spirit of the agreement "atrociously".
He also described the agreement - signed by Iran, the US, the UK, France, China, Russia and Germany - as the "one of the worst deals I've seen".
In April, Mr Trump ordered a review into whether a suspension of sanctions on Iran, linked to the deal curbing its nuclear activities, was in the US national interest.
If the US president does not recertify by the set deadline that Tehran is complying with the agreement, he could withdraw his approval.
Congress would then have 60 days to decide whether to re-impose sanctions on Iran suspended under the deal.
Iran has always said it has the right to nuclear energy - and insists that its nuclear programme is for peaceful purposes only.
The International Atomic Energy Agency said last month that Iran was implementing the nuclear-related commitments from the deal.