Somali Edmonton suspect faced US deportation in 2011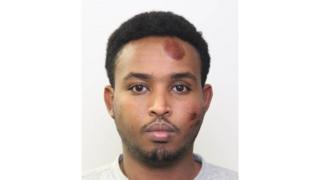 A Somali-born refugee charged in connection with a weekend attack in Canada faced deportation in the US in 2011, say US immigration officials.
Abdulahi Hasan Sharif, 30, is accused of attempting to run down a police officer and pedestrians in Edmonton, Alberta, on Saturday.
Mr Sharif was briefly in detention in the US but released on an "order of supervision" in November 2011.
He claimed refugee status in Canada in 2012, which was granted.
In a statement, US Immigration and Customs Enforcement (Ice) said Mr Sharif was transferred into their custody in July 2011.
That September, a US immigration judge ordered him to be removed to Somalia.
Mr Sharif waived his right to appeal against the decision and was released from immigration detention.
In January 2012 he failed to appear for a scheduled meeting with Ice officials and they were unable to locate him.
Mr Sharif had no known criminal history at the time of his encounters with Ice.
Canada's Public Safety department said on Wednesday that being detained for immigration purposes in another country would not have prevented Mr Sharif from making his asylum claim.
Public Safety Minister Ralph Goodale has said no information raised "red flags" when he entered Canada.
On Wednesday, Prime Minister Justin Trudeau said the government was looking into the asylum system and will "reflect on whether we need to do things differently in the future" than was done in 2012.
Mr Sharif faces 11 charges, including five counts of attempted murder.
In 2015, Canadian police received a complaint about Mr Sharif over concerns he believed in extremist ideology.
An investigation was initiated but he was not deemed to pose a threat to national security at the time.
In Edmonton on Saturday evening, Constable Michael Chernyk was rammed by a car outside Alberta's Commonwealth Stadium.
The driver then stabbed the officer several times, before fleeing on foot.
Shortly before midnight, a man driving a rented U-Haul van was pulled over at a checkpoint and police recognised the name on the rental documents as similar to those for the car that struck Constable Chernyk.
The truck fled the scene, and was pursued by officers. Four pedestrians were struck during the chase in what police say appeared to be a deliberate action.
The truck overturned during the police chase and the driver was arrested.