One killed after rockslide in Yosemite National Park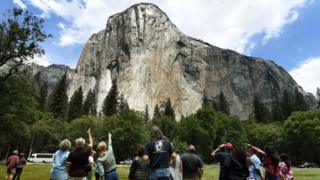 One person has died and another has been injured by a rockslide in Yosemite National Park in California.
A park spokesman said the rocks fell from El Capitan, a rock formation above Yosemite Valley, on to a popular hiking trail shortly before 14:00 local time (21:00 GMT).
The park remains open and visitor services are not affected.
El Capitan is the world's largest granite monolith and one of the best-known landmarks in Yosemite.
Speaking to KFSN-TV, climber Peter Zaybrok said: "I saw a piece of rock - white granite the size of an apartment building - suddenly just come peeling off the wall with no warning."
"Boy, I don't know how anybody could have survived that," he added.
In a statement, the park said the rockslide occurred in an area popular with climbers.
"The release point appears to be near the 'Waterfall Route', a popular climbing route on the East Buttress of El Capitan," it said.