Somali on trial in Canada over journalist's 2008 kidnap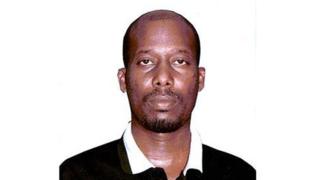 A Somali man charged in the kidnapping of Canadian journalist Amanda Lindhout is standing trial in an Ontario court.
Ali Omar Ader was arrested in Ottawa in 2015 by the Royal Canadian Mounted Police.
He faces a hostage-taking charge for his alleged role as a negotiator in the kidnapping.
The trial began on Monday seven years after the Mounties launched an international undercover operation for his capture.
Ms Lindhout and Australian freelance journalist Nigel Brennan were taken hostage near Mogadishu on 23 August 2008.
Both were released after 460 days in captivity on 25 November, 2009
Lindhout and Brennan have described having been assaulted, tortured and nearly starved during their captivity.
A ransom was paid for the pair's release.
Mr Ader's trial before a judge in an Ontario Superior Court is expected to last three weeks.
During a pretrial motion hearing in April, the court heard how an undercover Mountie leveraged Mr Ader's ambition to write a book on Somalia's history to lure him to Canada under the pretence of signing a publishing contract.
In a Facebook post following the arrest, Ms Lindhout said she had been meeting regularly for five years with RCMP investigators but was still "stunned" to receive a phone call confirming Mr Ader's arrest.
Ms Lindhout and Mr Brennan, as well as their families, provided witness statements to the authorities during their investigation.
She said that seeing his picture the next day in news stories "brought up anger, fear, confusion, and also - knowing he no longer poses a threat to me or to anyone else - a sense of relief."