Nashville church shooting suspect's cryptic message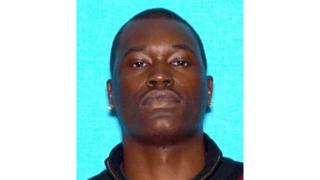 A 25-year-old man suspected of killing a woman and wounding six others at a Tennessee church reportedly posted odd Facebook messages before the rampage.
Ahead of Sunday's attack, Emanuel Kidega Samson wrote: "Everything you've ever doubted or made to be believe as false, is real. & vice versa, B."
Police say he wore a ski mask as he walked into Nashville's Burnette Chapel Church of Christ and opened fire.
The Sudanese immigrant shot himself as he was tackled by a church usher.
Congregants told police the suspect had once attended services at the church, but a motive for the attack is unclear.
The Tennessean newspaper reports that on Sunday before the attack, Mr Samson also posted on Facebook two photos of himself flexing his muscles with the caption, "unrestricted paroxysm".
Paroxysm means a sudden attack or fit of violent action or emotion.
About 50 people were in the church during the shooting, Metropolitan Nashville Police spokesman Don Aaron told reporters.
Mr Samson was charged with the murder of 39-year-old Melanie Smith, of Smyrna, who was found dead in the car park near the suspect's car.
At least six people were also wounded, all of whom were aged over 60.
The heroic usher, Robert Caleb Engle, 22, was treated for head injuries.
Police said Mr Samson shot himself in the chest "probably not intentionally" during a struggle with Mr Engle.
Mr Engle retrieved his gun from his car to stop Mr Samson fleeing.
Police said they planned to bring further charges against the suspect.
Two pistols were recovered in the church and two more guns were found in Mr Samson's car nearby.
Mr Samson is a legal US resident but not a citizen, Mr Aaron said. He moved to the US in the 1990s.
"It would appear he was not expecting a brave individual like the church usher to initiate the struggle and confrontation," Mr Aaron said.
Police said Mr Engle acted in an "extraordinarily brave" way.
In a statement Mr Engle said: "I do not want to be labelled a hero.
"The real heroes are the police, first responders and medical staff and doctors who have helped me and everyone affected."
The church's pastor, Joey Spann, and his wife Peggy were among those injured in the shooting, the Nashville Christian School said. Mr Spann teaches at the school.
One eyewitness, speaking to the Tennessean newspaper, said the pastor had shouted "run" as the suspect entered, but some were shot from behind.
"Our church is senior people. They didn't make it out," Minerva Rosa told the paper.