Trump NFL row: #TakeAKnee versus #BoycottNFL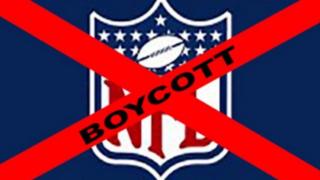 US President Donald Trump sparked controversy on Friday when he called for the National Football League (NFL) to fire players who refuse to stand during the national anthem.
Many have taken to social media to condemn Mr Trump's comments made at a rally in Alabama.
The hashtag #TakeAKnee, encouraging NFL players to kneel during the national anthem at forthcoming games, has been shared more than 1.2 million times since Saturday.
NFL players have been kneeling during the national anthem at pre-game ceremonies to protest against the treatment of black Americans.
Stars from the worlds of sport and entertainment have shown support for the #TakeAKnee campaign.
Bruce Maxwell, catcher for Oakland Athletics, took a knee during a Major League Baseball (MLB) game on Saturday.
One man shared an image of his 97-year-old grandfather, a veteran of World War Two, taking a knee.
Such protests have proven to be highly divisive.
Some have expressed their support for the president's latest intervention on social media, using the hashtag #BoycottNFL.
They characterise the decision of NFL players to protest in this way as disrespectful and inappropriate.
#BoycottNFL has been shared more than 131,000 times, with many social media users urging people not to watch or attend future NFL games unless players are forced to stand during the national anthem.
A restaurant owner in South Carolina said he is going to stop showing NFL games due to the protests.
The president has since suggested that a boycott of NFL games "will see change take place fast."
While the #BoycottNFL hashtag is currently being used by those opposed to players protesting, in 2016 the picture was more mixed.
After San Francisco 49ers player Colin Kaepernick refused to stand to protest against the treatment of black Americans last year, #BoycottNFL was used to show support for the quarterback.
Users threatened to boycott the NFL when Kaepernick struggled to find a team to sign with before the beginning of the next season.
Karin Petry Sanderson wrote on Facebook that politics didn't belong in "all American sporting events".
However the debate over whether to #TakeAKnee or #BoycottNFL has brought the two together.
By George Pierpoint, UGC and Social News team