Trump NFL row: What have sports stars and team owners said?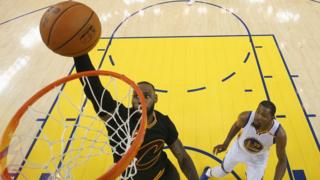 US President Donald Trump is embroiled in a row with leading figures in the sports world after he said NFL players who protested during the playing of the national anthem should be fired.
The president also received flak for criticising NBA star Stephen Curry in a tweet for not wanting to visit the White House with his championship-winning basketball team.
But who has spoken out, and what have they said?
Warning: This article contains language some readers may find offensive.
The NFL
League representatives, team owners, players' representatives and of course players themselves have all spoken out since President Trump unleashed a tirade on American Football players kneeling during the national anthem in protest at police violence against African-Americans.
Former San Francisco 49ers quarterback Colin Kaepernick became a lightning rod for criticism when he did just that last year, with several players since following suit.
"Wouldn't you love to see one of these NFL owners, when somebody disrespects our flag, to say, 'Get that son of a bitch off the field right now... he is fired?" Mr Trump asked a rally in Alabama.
US anthem and flag: Etiquette and law
What happened next in Kaepernick row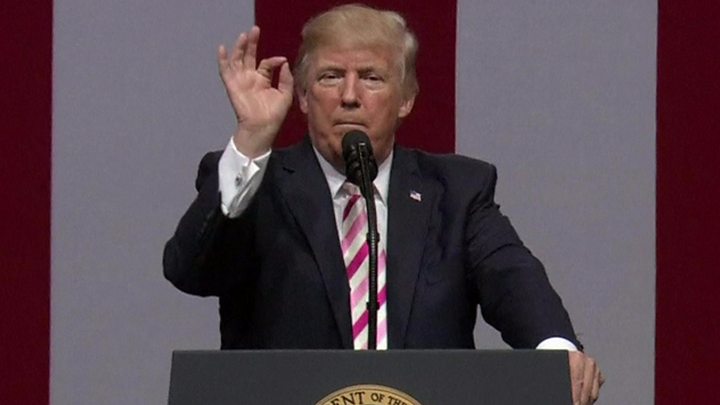 NFL commissioner Roger Goodell released a statement saying "divisive comments like these demonstrate an unfortunate lack of respect".
NFL Players' Association president Eric Winston said Mr Trump's comments were "a slap in the face to the civil rights heroes of the past and present".
Meanwhile, Mr Kaepernick's mother, Teresa Kaepernick, tweeted: "Guess that makes me a proud bitch."
Owner of the San Francisco 49ers Jed York called the president's comments "callous and offensive" and "contradictory to what this great country stands for".
New England Patriots CEO Robert Kraft, a man who has previously called Mr Trump a "very good friend" and donated $1m to his inauguration according to the New York Times, said he was "deeply disappointed by the tone of the comments".
He said he supported players' right to "peacefully affect social change and raise awareness in a manner that they feel is most impactful".
Baltimore Ravens owner Steve Bisciotti said his players had influence and that management respected and supported them "100 percent".
Minnesota Vikings player Bishop Sankey tweeted: "It's a shame and disgrace when you have the president of the US calling citizens of the country sons of a bitches."
The Seattle Seahawks' Doug Baldwin said he believed "this will be a unifying moment for the sports world". His teammate Michael Bennett, who has been sitting out the national anthem in protest, tweeted: "My mom is a beautiful lady she has never been a bitch."
Meanwhile, New York Giants owners John Mara and Steve Tisch said the president had been "inappropriate, offensive and divisive".
Atlanta Falcons owner Arthur Blank called for "constructive dialogue", while Miami Dolphins owner Stephen Ross said his players who kneeled for the anthem were "smart young men of character" who "wanted to start a conversation".
While some sports fans have expressed support for Mr Trump, some sports stars and team owners who have backed Trump, such as New York Jets boss Woody Johnson - a Trump campaign donor who was appointed as his ambassador to the UK - appear to have stayed out of the row.
The NBA
Cleveland Cavaliers all-time leading scorer LeBron James, seen as one of the best US basketball players ever, was one of the first to respond to the president's attack on Stephen Curry, named the NBA's top performer in 2015.
Mr Trump had tweeted: "Going to the White House is considered a great honor for a championship team. Stephen Curry is hesitating, therefore invitation is withdrawn!"
In response, Le Bron James, who publicly supported Hillary Clinton in the 2016 election, called him a "bum". "Going to White House was an honour until you showed up," he said.
Curry told a press conference that his beliefs were "cemented even further about how things in our country are going" after Mr Trump's comments.
Kobe Bryant, formerly of the LA Lakers but now retired, also tweeted a response.
Curry's team, the Golden State Warriors, said it was clear they were not invited to the White House but that the team would visit Washington DC on its own "to celebrate equality, diversity, and inclusion".
Head coach Steve Kerr said Mr Trump's comments about the NFL players were "as bad as anything he has said".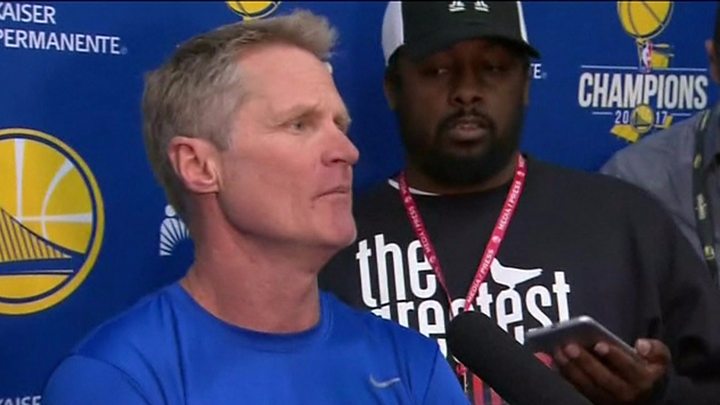 NBA Commissioner Adam Silver said he was disappointed the team would not be visiting the White House as it would have been a "rare opportunity for these players to share their views directly with the president" but that he was "proud" of players.
Major League Baseball (MLB)
On Saturday night, the Oakland Athletics' Bruce Maxwell became the first Major League Baseball player to kneel in protest during the national anthem, mimicking the gesture of protest started by Colin Kaepernick.
His father is in the military and he was born on an army base, US media report. He told a reporter he was "kneeling for people that don't have a voice".
His team soon after said it supported its players' "constitutional rights and freedom of expression".
The MLB has also released a statement, according to ESPN reporter Buster Olney.
He quoted it as saying: "Major League Baseball has a longstanding tradition of honouring our nation prior to the start of our games. We also respect that each of our players is an individual with his own background, perspectives and opinions. We believe that our game will continue to bring our fans, their communities and our players together."