How Cuba and Puerto Rico responded to their hurricanes
By Will Grant
Cuba correspondent, BBC News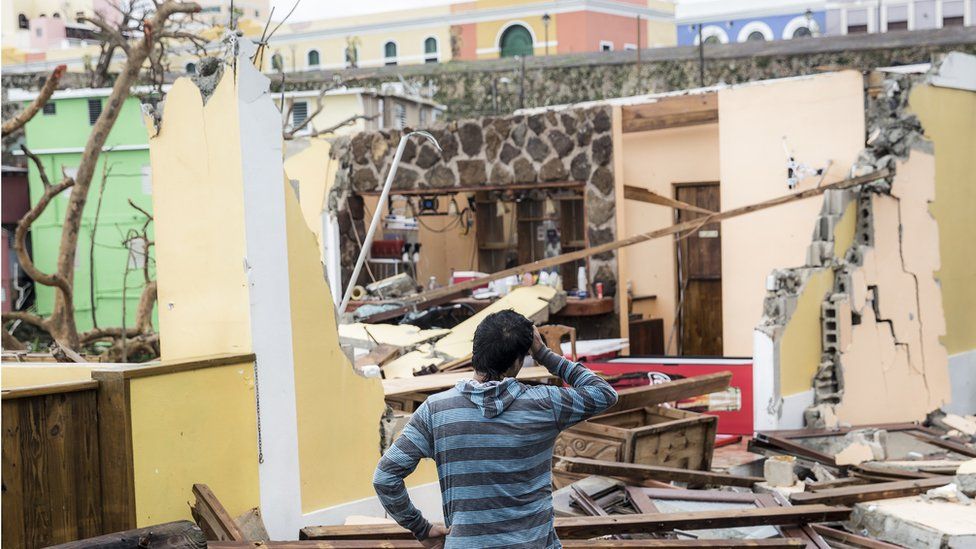 If Hurricane Irma hitting Cuba and Hurricane Maria in Puerto Rico had one thing in common it was that - despite ample warning - they seemed to take many by surprise.
It was an odd similarity given the long lag-time between the storms forming and making landfall on the two islands. While certainly accustomed to living through hurricanes, people in both capitals, Havana and San Juan, were perhaps guilty of a degree of complacency on this occasion.
"It's going to head north before it reaches us," was the blithely confident comment I heard from several residents in Havana before Irma struck. Others simply thought it would lose most of its power by the time it reached the Cuban capital.
They were proved wrong in devastating fashion.
A week later, Puerto Ricans certainly knew Maria was going to be bad as she was bearing down on them, yet many did little or nothing to prepare for the worst. The day before the hurricane arrived, I was struck by the absence of queues for emergency supplies or bottled water.
Some people boarded up their homes but others - like Juan Roman - left their fate in the hands of God.
"It was a mistake", he admitted afterwards, viewing the rubble that was once his home outside San Juan. "I was trapped and could have died. I know now how big this thing was."
He was undoubtedly fortunate. At least 13 people died in Puerto Rico, while 10 in Cuba tragically lost their lives in Irma.
As the days pass, however, it is the differing response to the two disasters that stands out.
In Cuba, brigades of emergency services, hordes of police and firemen, as well as thousands of state employees, were in the streets of Havana from the moment it was safe to be out.
Despite the lack of adequate materials, teams with chainsaws arrived to remove the worst of the felled trees and clear much of the debris.
The Cuban capital was largely without power or water for five insufferable days. After that first week, though, most of the island regained power relatively quickly.
Puerto Ricans are currently looking at a lot longer before the electricity comes back. Definitely weeks, possibly months.
So pleased are the Cuban government with its reaction that they and some of the big tour operators have started to tweet pictures of the main tourist beaches in resorts like Varadero, showing them freshly cleaned and open for business again.
That glosses over just how bad things remain for many thousands of people, especially further down the coast.
It also ignores the widespread criticism of the state's response that was voiced on the street by many Cubans.
"If the Commander in Chief, Fidel Castro, was still alive, I can tell you this would have been very different", said Alejandro Alvarez in hushed tones, a resident of Centro Habana, one of the capital's worst affected neighbourhoods.
Specifically, he was unimpressed by Raul Castro's absence in the first days of the crisis. Beyond a letter to the Cuban people in the state-run newspaper, Granma, urging them to show "discipline" and follow the instructions of the authorities, he was scarcely seen. Many ordinary Cubans felt he should have been in the streets, leading by example.
Plenty of others complained of having to wait too long before state officials attended to problems on their block or in their building.
Nevertheless, in some of the worst-hit areas of the capital the operation was impressive and, government propaganda aside, the truth is that much of Cuba is getting back to normal after the devastating storm.
Not so Puerto Rico, nor is it likely to be any time soon. Thousands of trees continue to block main highways and thoroughfares, whole neighbourhoods remain flooded and many homes are without roofs and exposed to the elements.
The main airport is chaos with anxious passengers unable to find out if they will be able to travel, let alone when.
For all the criticism of Cuba's response voiced by Alejandro and his neighbours as they tried in vain to dry out their meagre possessions in Centro Habana, right now they would be staggered at the apparent absence of leadership in Puerto Rico.
Traffic on flooded highways is being redirected by residents rather than the police, who are stretched to the limits elsewhere in the capital. Whole communities still haven't properly been heard from days after the storm passed.
Asked by the BBC how the government were prepared for the fact the worst was potentially still to come in Puerto Rico, the island's governor, Ricardo Rossello, was defensive.
"We're ready for the rebuild", Mr Rossello said "but I disagree with the premise because I think this is the worst moment as it has involved risk to the lives of our citizens."
"Everything else can be repaired. Of course, it's uncomfortable to be without electricity or basic necessities. But the most important thing was to avoid the loss of life."
Puerto Rico is an island mired in debt. Its crippling financial crisis is not recent, it has been happening for the past decade. Investment in infrastructure has not been seen in years, one long-term resident told me.
If so, the economic chickens have come home to roost in the most terrible of ways: the dam on the Guajataca River has failed, forcing the emergency evacuation of thousands from the towns below, Isabela and Quebradillas. It is a critical and very dangerous situation.
However, Cuba too is an island that suffers from a lack of infrastructural investment, probably worse than in Puerto Rico. Plus it must contend with the US economic embargo - the Cuban government's perennial excuse for its economic mismanagement but one that is undeniably relevant at a time like this.
On one level, Havana was just lucky that Irma did not arrive as a category five. If it had, one shudders to think of what the devastation and loss of life in the city would have been.
In both islands though, there has been a lot of what Raul Castro called "neighbourly solidarity" - ordinary people helping each other rather than waiting for the authorities.
Perhaps one should not judge the official responses too harshly this early.
After all, both Irma and Maria were uniquely powerful storms, the strongest to hit Cuba and Puerto Rico respectively in almost a century.