US Health Secretary Tom Price's private air travel probed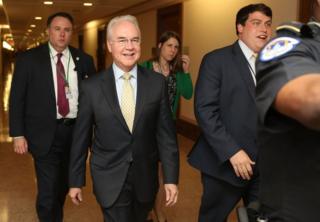 An internal investigation has been opened into Health Secretary Tom Price over his private plane travel on official government business.
A spokesman for the agency's inspector general told the BBC "we take this matter very seriously". The probe follows a demand from Democrats.
Mr Price's spokesperson has defended his use of charter planes, saying they are necessary for "official business".
It comes amid an inquiry into another Trump official's mode of air travel.
Treasury Secretary Steven Mnuchin - a former Goldman Sachs banker - is already under investigation by his agency's own inspector general.
The watchdog is seeking to determine whether Mr Mnuchin improperly used a US government jet to view the solar eclipse with his wife last month.
'Potentially inappropriate travel'
An investigation by Politico found this week that Mr Price, a former Georgia congressman, had taken 24 flights on private chartered planes since May, at a cost to taxpayers of around $300,000 (£220,000).
Government officials, with the exception of those dealing directly with national security matters, are required to take commercial flights for work-related travel.
Tesia D Williams, a spokesperson for the Department of Health and Human Services (HHS) inspector general's office, told the BBC on Friday their review "focuses on whether the travel complied with Federal Travel Regulations, but may encompass other issues related to the travel".
"We take this matter very seriously, and when questions arose about potentially inappropriate travel, we immediately began assessing the issue."
Politico, a Washington DC political news outlet, documented one flight taken by Mr Price from Philadelphia to Washington, which cost about $25,000 - a trip that would typically cost around $300 to fly commercial.
Late on Wednesday, five Democratic lawmakers wrote to the inspector general of Mr Price's agency, demanding an inquiry into his use of luxury private jets, several of which included leather chairs, a kitchen and wi-fi internet.
"American taxpayers deserve assurances that their tax dollars are not wasted by the government's highest officials," the lawmakers wrote.
Charmaine Yoest, a spokesperson for HHS, defended the cabinet secretary's flights, saying they were needed "in order to accommodate his demanding schedule".
"Some believe the HHS Secretary should be Washington-focused. Dr Price is focused on hearing from Americans across the country," she said in a statement.
She later told the Washington Post: "This is Secretary Price, getting outside of DC, making sure he is connected with the real American people."
Mr Price, an orthopaedic physician, has been tasked by US President Donald Trump with directing the Republican plan to repeal Obamacare.
In June, Mr Price attended a physicians' conference where he vowed to end wasteful government spending.
The private plane which he took to that event, the first stop on a five-state tour, cost $50,420, according to Politico.
Meanwhile, Education Secretary Betsy DeVos - who is the second wealthiest Trump cabinet official - told the Associated Press news agency this week she uses her "personally-owned aircraft" for travel at zero cost to taxpayers.
"Secretary DeVos accepted her position to serve the public and is fully committed to being a faithful steward of taxpayer dollars", her spokeswoman said.
She added that she "neither seeks, nor accepts, any reimbursement for her flights, nor for any additional official travel-related expenses".