Was Aaron Hernandez a victim of sport's growing brain injury toll?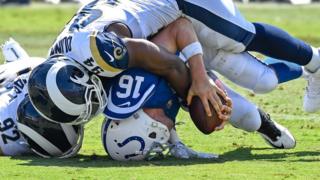 The suicide of a jailed ex-NFL footballer later found to have had brain disease is renewing debate about the safety of sports where high impacts are common.
Aaron Hernandez, 27, suffered from chronic traumatic encephalopathy (CTE), a condition associated with head injury, his family lawyer said.
His family asked for his brain to be tested after Hernandez, a convicted murderer, killed himself in April.
But while the crunching collisions in the NFL are well-known - and celebrated by the sport itself - CTE is affecting sportspeople from a much wider range of backgrounds.
What is CTE?
It is a type of dementia associated with repeated blows to the head and recurrent episodes of concussion.
The condition sees a protein called Tau form clumps that then spread throughout the brain and kill brain cells.
It is mostly found in athletes and military veterans who have suffered hundreds or even thousands of head impacts over the course of years, the US-based Concussion Legacy Foundation (CLF) says.
Common symptoms include impulse control problems, aggression, depression and paranoia. Later symptoms include memory loss, confusion, impaired judgement, and eventually progressive dementia, the CLF says.
CTE has been observed in people as young as 17, but symptoms do not usually start to appear until years after the head impacts began to occur.
How widespread is it?
In July, Boston University researchers found CTE present in 110 of 111 brains from former NFL players that were donated for research after their deaths.
"A high level of play may be related to substantial disease burden," the authors said.
The most common cause of death among those with early-stage CTE was suicide, they found, which accounted for more than a quarter of deaths.
High-profile suicides include former Chicago Bears player Dave Duerson, who shot himself in the chest in 2011 and left a note saying he wanted his brain to be examined by scientists.
Duerson, who had been suffering from depression, was later found to have CTE.
Who else is affected?
Last year former BMX champion Dave Mirra became the first action sports athlete to be diagnosed with CTE after he committed suicide.
He had been suffering mood swings, Rolling Stone reported.
The magazine said that towards the end of his career, Mirra had begun having more frequent crashes because pressure had grown within the sport to aim for bigger jumps and more difficult tricks.
Meanwhile former WWE wrestling champion Daniel Bryan last year said he was retiring because a brain scan had revealed that his brain was not "as OK as I thought it was".
The condition has also affected ice hockey, football and rugby players. Brazilian footballer Bellini, who along with Pele led the Brazil team to World Cup triumphs in 1958 and 1962, was posthumously diagnosed with CTE in 2014.
In February, UK researchers said they had tentative evidence that repeated headers during a footballer's professional career may be linked to long-term brain damage.
"I think there's been a perception that the non-helmeted sports are somehow less likely or less prone to these kinds of diseases," Dr Ann McKee from Boston University told the New York Times newspaper in 2014.
"There was also a time when people said CTE was only an American problem. I think we are learning that, in both cases, those things aren't true, and this is a problem that is going to be seen around the world."
Could CTE be a factor in violent crime?
This is a difficult area in which to draw firm conclusions, but some observers have suggested that CTE - which can increase aggression and reduce impulse control in sufferers - could therefore make sufferers more prone to violence.
"We are headed towards a day where with a crime, the defence attorney is going to put football actually on trial. Where the defence is: 'This behaviour was caused because this sport made this guy hit his head too often'," ESPN TV commentator Dan Le Batard said last year.
What is being done?
More than 40 American football rules have been changed to reduce the risk of concussion, and the sport says it has seen a reduction.
The NFL also says it is working with experts to improve players' health and supporting further research.
In 2015 the NFL agreed to pay about $900m (£665m) to compensate and pay for medical examinations for thousands of former players as well as funding research after about 4,500 ex-players sued the organisation over concussion-related conditions.
Meanwhile the company Vicis has developed a new $1,500 helmet for players to wear that it says can reduce the impact of collisions on the brain.
Research is also taking place into the effects of playing rugby - where no helmet is worn - and attitudes are changing as more becomes known.
"I would not want a son of mine playing rugby," Prof McKee from Boston University told the BBC in 2015.
However, world football's governing body Fifa insists that football is not a high-risk sport for brain and head injuries, despite the UK researchers' findings.
"There is currently no true evidence of the negative effect of heading or other sub-concussive blows," Fifa said in February.