Former Mountie jailed for smuggling ivory into US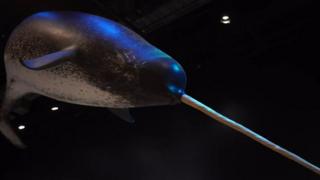 A retired Canadian police officer has been sentenced to five years in prison for smuggling ivory into the US.
Gregory Logan, 59, was sentenced to 62 months in prison on Wednesday by a US district court in the state of Maine.
He had pleaded guilty to 10 money laundering offences last year, after being charged with laundering, conspiracy and smuggling in 2012.
Logan was involved in a scheme to smuggle narwhal tusks from Canada to the US between 2000-10.
Prosecutors estimated he smuggled 250 tusks worth between $1.5m (£1.1m) and $3m over the course of the decade.
Narwhal whales are found in the north Atlantic Ocean and their tusks are coveted by hunters.
But the sale and importation of such ivory is heavily restricted in North America and Europe.
The investigation was a joint effort between US Fish and Wildlife Service, National Oceanic and Atmospheric Administration and Environment (Noaa) and the Canadian government.
"Today's sentencing brings to a close a long investigation and prosecutorial process that underscores our global commitment to end wildlife trafficking," said Chris Oliver, assistant administrator for Noaa Fisheries, in a statement.
"We are grateful for the international co-operation that has lead to this conclusion."
Logan, who retired from the Royal Canadian Mounted Police in 2003, was convicted of smuggling by a Canadian court in the province of New Brunswick in 2013.
He served four months of detention at home and paid a $350,000 fine, according to the Canadian Press.
He was extradited to the US to face the money laundering charges after a failed appeal.
An accomplice, Andrew Zarauskas, was convicted and sentenced to 33 months in prison in the US.