Hurricane Irma will be 'devastating' to US - Fema head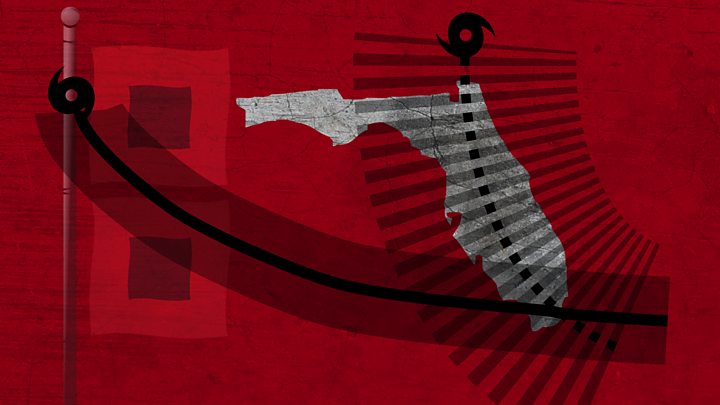 Hurricane Irma will "devastate" either Florida or neighbouring states, the head of the US federal emergency agency has said.
Brock Long said parts of Florida would be without power for days. Half a million people in the state have been ordered to leave their homes.
Hurricane Irma has left a trail of destruction in the Caribbean, affecting an estimated 1.2m people.
At least 20 people are known to have died so far.
It has been downgraded to a category four storm, but officials warn that it remains "extremely dangerous".
The US National Weather Service says that Irma was expected to bring wind speeds of around 165mph (270km/h) over the weekend as it hits Florida.
"Hurricane Irma continues to be a threat that is going to devastate the United States in either Florida or some of the south-eastern states," Mr Long said.
"The entire south-eastern United States better wake up and pay attention," he added.
Florida Governor Rick Scott said all Floridians should be prepared for possible evacuation, and issued a stark warning to those in threatened areas.
"We are running out of time. If you are in an evacuation zone, you need to go now," he told reporters.
"Remember, we can rebuild your home, we can't rebuild your life."
The death toll continued to rise on Friday in the Caribbean.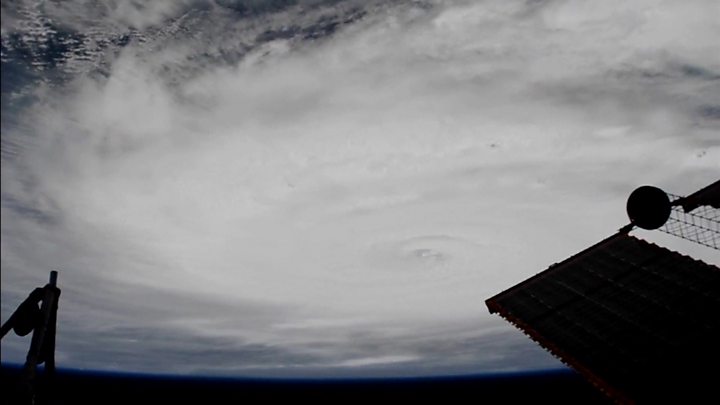 France's Interior Minister Gérard Collomb said nine people were dead and seven missing in the French territory on St Martin, an island shared with the Netherlands, and St Barthélemy, known more commonly as St Barts. Another death - the second - has been confirmed in the Dutch territory of Sint Maarten.
French officials said six out of 10 homes on Saint-Martin were so badly damaged that they were uninhabitable.
The US Consulate General in Curacao said it believes an estimated 6,000 Americans are stranded on the island.
French, British and Dutch military authorities have deployed aid - including warships and planes equipped with food, water and troops - to their territories.
Reporting from another badly damaged island, Barbuda, the BBC's Laura Bicker says the destruction there is worse than feared.
Where is Irma - and where next?
The storm lashed the Turks and Caicos islands and brought torrential rain to the Dominican Republic and Haiti, before battering the north coast of Cuba and the central Bahamas.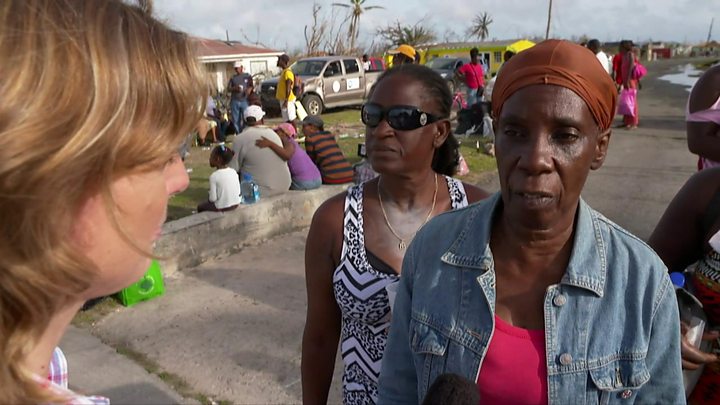 About 50,000 tourists are fleeing or have fled Cuba, with resorts on the north coast now empty, Reuters reports.
A huge evacuation of south-eastern, low-lying coastal areas in the Bahamas has been ordered. The tourism ministry said in a video statement that thousands of tourists left before the storm's arrival.
Meanwhile Mr Long predicted a "truly devastating" impact on Florida.
South Florida "may be uninhabitable for weeks or months" because of the storm, the US National Weather Service said.
On the archipelago of Turks and Caicos, with its population of about 35,000, one witness described a drop in pressure that could be felt in people's chests.
Irma ripped off roofs on the capital island, Grand Turk, flooded streets, snapped utility poles and caused a widespread black-out.
Governor John Freeman told the BBC that people in low-lying areas were evacuated and sent to shelters. The islands' highest point is only 50m (163ft).
Irma also caused some damage to roofs, flooding and power outages in the northern parts of the Dominican Republic and Haiti.
Which other areas have already been hit?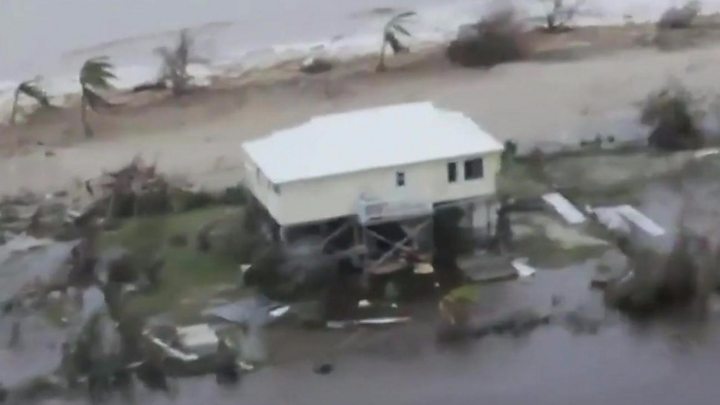 Turks and Caicos Islands: widespread damage, although extent unclear
Barbuda: the small island is said to be "barely habitable", with 95% of the buildings damaged. Antigua and Barbuda Prime Minister Gaston Browne estimates reconstruction will cost $100m (£80m). One death has been confirmed
Anguilla: extensive damage with one person confirmed dead
Puerto Rico: more than 6,000 residents of the US territory are in shelters and many more without power. At least three people have died
British Virgin Islands: widespread damage reported
US Virgin Islands: damage to infrastructure was said to be widespread, with four deaths confirmed
Haiti and the Dominican Republic: Both battered by the storm, but neither had as much damage as initially feared
What the US can expect
Irma is due to hit Florida as a category four hurricane on Sunday, bringing storm surges and flooding.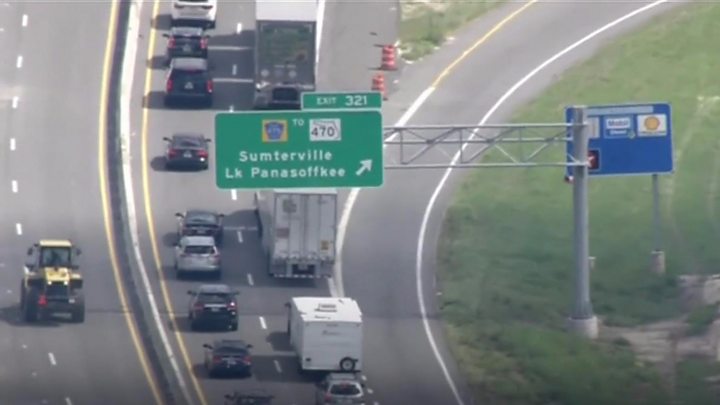 US President Donald Trump said: "I can say this: Florida is as well prepared as you can be for something like this. Now it's just a question of what happens."
Hurricane and storm surge warnings have been issued for south Florida and the Florida Keys, the US National Hurricane Center says.
Mr Trump's own Mar-a-Lago estate in Palm Beach is among those ordered to evacuate, the Washington Post tweeted.
After ripping through Florida's Atlantic coast, the storm is expected to move into Georgia and South Carolina.
Georgia Governor Nathan Deal said a mandatory evacuation on the state's Atlantic coast was scheduled to begin on Saturday.
Roads and airports have been jammed as thousands of people tried to evacuate areas at risk, with reports of fuel shortages and gridlock on some roads.
Many tourists are stranded with no seats left on flights back to their countries as flights to and from airports in Florida are being suspended.
Orlando's international airport said commercial flights would stop from 17:00 local time (21:00 GMT) on Saturday.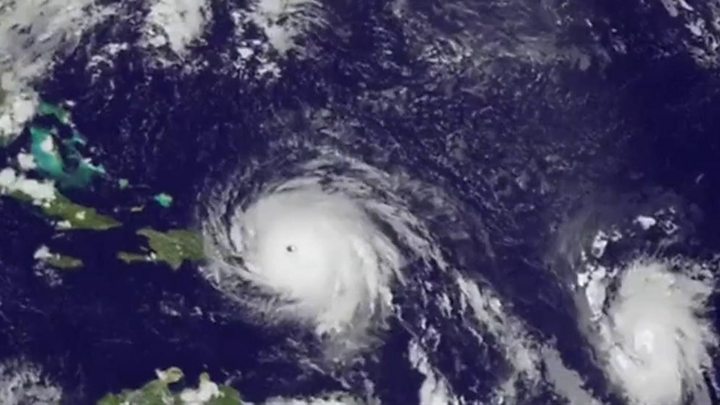 Are there more hurricanes to come?
Another storm, Jose, further out in the Atlantic behind Irma, is now a category four hurricane, with winds of up to 240km/h (150mph).
It is following a similar path to Irma and already hampering relief efforts in some of the worst affected areas.
Residents of Barbuda, where 95% of buildings have been destroyed by Irma, have now left the island as Jose approaches.
Hurricane Katia, in the Gulf of Mexico, has strengthened to a category two storm, with winds of up to 140km/h (85mph). A warning is in effect for the coast of the Mexican state of Veracruz and the storm is expected to make landfall on Saturday.
---
Are you in the region? Are you a holidaymaker unable to get a flight home or a resident who has been preparing for Hurricane Irma? If it is safe for you to do so, share your experiences by emailing haveyoursay@bbc.co.uk.
Please include a contact number if you are willing to speak to a BBC journalist. You can also contact us in the following ways: