Florida governor: Hurricane Irma 'much worse' than Andrew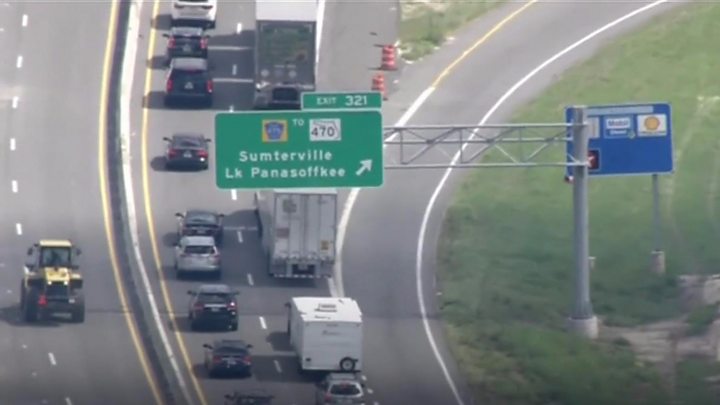 Hurricane Irma is "much worse and much more devastating on its current path" than a storm that ravaged Florida 25 years ago, the state governor has said.
Rick Scott said Irma was more powerful than Hurricane Andrew, which left 65 people dead in its wake and caused billions in damage.
Irma has caused widespread destruction in the Caribbean, where the island of Barbuda was left "barely habitable".
The storm is expected to make landfall in South Florida on Sunday.
"If you look at the size of this storm, it's huge," Mr Scott said on Thursday. "It's wider than our entire state and could cause major and life-threatening impacts on both coasts - coast to coast."
The governor said he had waived tolls on all Florida highways and urged residents to "get out now". He noted that Irma's current path showed it hitting the east coast but its trajectory could change.
"Regardless what coast you live on be prepared to evacuate," he warned.
The category five hurricane, the highest possible, has already left at least 10 people dead as it barrels through a chain of Caribbean islands.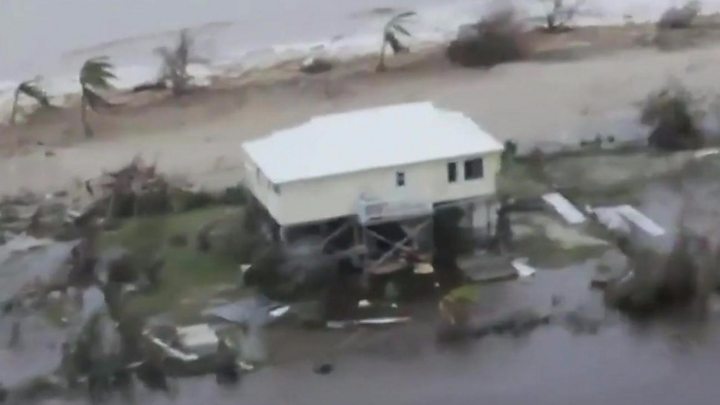 Irma's winds slightly weakened to 180mph (285km/h) on Thursday morning, according to the US National Hurricane Center, but were forecasted to rip through the entire Atlantic coast of Florida.
The deadly storm first hit the dual-island nation of Antigua and Barbuda and was headed for the Turks and Caicos, a British overseas territory, before moving toward Florida over the weekend.
More than 31,000 people had been evacuated from Florida as of Wednesday evening, said Mr Scott, who declared a state-wide emergency earlier this week.
---
What happened in Hurricane Andrew?
The category five hurricane made landfall south-west of Miami in 1992
At the time, it was the costliest hurricane on record, causing $26bn in damage
Killed 65 people
Destroyed 63,000 homes
The hurricane was so destructive that meteorologists retired its name forever
Prompted stricter building codes in Florida
---
Florida is bracing for the powerful storm as Congress is racing to pass $8bn (£6bn) in disaster relief aid in the wake of the deadly Hurricane Harvey, which devastated Houston earlier this month.
Funding for the Federal Emergency Management Agency (Fema) was due to run out by the end of the week.
US President Donald Trump said he and his aides were monitoring Irma's progress. "But it looks like it could be something that will be not good," he told reporters at the White House. "Believe me, not good."
Mr Trump's south Florida Mar-a-Lago estate is located in Florida's Palm Beach County, which was under a state of emergency.
A storm surge watch has been issued for the southern part of the state as well as the Florida Keys, a resort archipelago, bringing with it potentially life-threatening levels of water.
After Hurricane Andrew, Florida began enforcing stricter building codes but, like in Houston, the state's rapid population growth has led to more development, especially along the coast, making it more vulnerable in natural disasters.
In the state's most populous county of Miami-Dade, the population has increased 35% since Hurricane Andrew, according to a report by Swiss Re, a re-insurance firm.
However, cities like Miami have taken more precautions in disaster preparedness, including requiring new homes to use impact-resistant windows and high-rise buildings to withstand high winds.
---
Are you in the region? Are you a holidaymaker unable to get a flight home or a resident who has been preparing for Hurricane Irma? If it is safe for you to do so, share your experiences by emailing haveyoursay@bbc.co.uk.
Please include a contact number if you are willing to speak to a BBC journalist. You can also contact us in the following ways: