NFL's Michael Bennett accuses police of 'abusive conduct'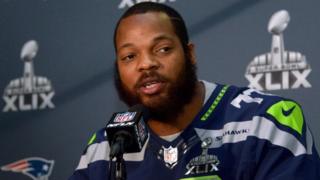 A high-profile NFL star has accused Las Vegas police of excessive force during an incident after a major boxing event.
Michael Bennett, who plays for the Seattle Seahawks, says he ran back to his hotel to escape "what sounded like gun shots" after the Mayweather v McGregor fight in Las Vegas.
The American football star says he was singled out by police for his race and forced to the ground at gunpoint.
But police insist that race was not a factor in the 26 August incident.
"I can tell you as I stand here today, I see no evidence of that," Las Vegas Metropolitan Police Department Undersheriff Kevin McMahill said.
Mr McMahilll said police had received a call early on Sunday morning about a gunman believed to be in the vicinity of the Cromwell Hotel and Casino.
He said that when officers arrived there was chaos and that Mr Bennett "was seen crouched down behind a gaming machine" as they approached.
Officers viewed his actions as suspicious when he tried to run away from the scene, Mr McMahill was quoted by CBSSports as saying.
"They believed that Bennett may have been involved in the shooting and they gave chase," Mr McMahill said. "[He] was placed in handcuffs and detained while officers determined whether or not he was involved in the incident."
Mr Bennett has previously publicly protested against racial injustice.
Warning: explicit language
A video of the alleged incident was released by TMZ - a US-based celebrity news website.
In a statement posted on Twitter, Mr Bennett said: "Las Vegas police officers singled me out and pointed their guns at me for doing nothing more than simply being a black man in the wrong place at the wrong time.
"A police officer ordered me to get on the ground. As I laid on the ground, complying with his commands to not move, he placed his gun near my head and warned me that if I moved he would "blow my fucking head off".
He said that he was "terrified and confused" by the events which included a second officer forcefully jamming his knee into his back and handcuffs applied so tightly his fingers went numb.
"All I could think of was 'I'm going to die for no other reason than I am black and my skin colour is somehow a threat'."
Bennett said he was eventually released "without any legitimate justification" after police "realised I was not a thug, common criminal or ordinary black man but Michael Bennett, a famous professional football player".
He said the police had engaged in "abusive conduct".
Mr Bennett, 31, is one of the league's best-known players, and won the Super Bowl with the Seattle Seahawks in 2014.
In a statement, he referred to a string of high-profile cases involving African-Americans killed by US police.
He also said he was exploring "all my legal options including filing a civil rights lawsuit for the violation of my constitutional rights".
Last month, Mr Bennett joined a number of black US football players by sitting during the US national anthem at a pre-season game to protest against racial discrimination.
He was following the lead of former San Francisco 49ers quarterback Colin Kaepernick, who divided US public opinion by staging protests during the US national anthem throughout the 2016 season.
Mr Kaepernick labelled Mr Bennett's treatment as "disgusting and unjust" in a tweet on Thursday.
Both of the players' tweets have been shared tens of thousands of times.