Brexit talks: Ireland on agenda in Brussels Brexit talks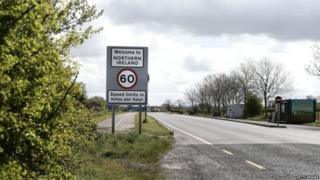 The Irish border and relations between the UK and the EU after Brexit are on the agenda for talks in Brussels later on Wednesday.
These are the first talks on Ireland since the UK government published a position paper on 16 August.
The EU chief negotiator, Michel Barnier, previously asked the UK how it will maintain the common travel area (CTA) between the UK and Ireland.
He also sought clarification on the Good Friday Agreement institutions.
The talks on what is known as the "Irish dialogue" are expected to be led by senior negotiators Olly Robbins and Sabine Weyand for the UK and EU respectively.
Speaking in Belfast on Tuesday, Irish Foreign Minister Simon Coveney called for continued close economic ties between the UK and EU.
"The best way to ensure we preserve the kind of border arrangements that have served us so well is for the UK and Northern Ireland to remain in the Customs Union and Single Market," he said.
In the first phase of negotiations, British and EU officials are meeting each month for four days in Brussels.