Walmart sorry for 'horrible' gun display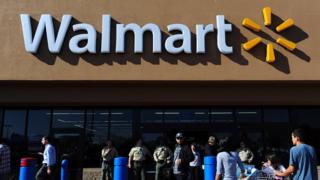 US retailer Walmart has apologised after a picture emerged of a gun cabinet in one of its stores beneath a sign reading "own the school year like a hero".
The retailer tweeted the display was "horrible" and "truly awful," and said it would investigate how it came to be.
The image has been widely shared on Reddit and Twitter, with many users questioning how it had happened.
In recent years, the US has seen a number of deadly school shootings.
You may also like:
Charles Crowson, a spokesman for Walmart, told the BBC: "What's seen in this photograph would never be acceptable in our stores.
"We regret this situation and are looking into how it could have happened."
On Reddit, commentators speculated whether the sign had been placed on top of the weapons cabinet by a member of staff or a customer, and done so on purpose or by accident.
By the BBC UGC and Social News team