Taliban suicide bomb kills two American soldiers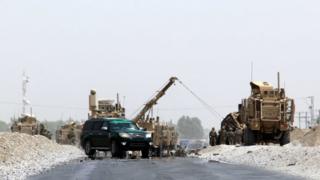 Two US soldiers have been killed by a suicide car bomber in Afghanistan, the Pentagon says.
The Americans, whom officials have not yet named, were killed after an explosive-packed car rammed their convoy in Kandahar province.
The attack, claimed by the Taliban, took place near the regional airport.
It comes as President Donald Trump reportedly considers adding 4,000 soldiers to the 8,000 or so US troops currently supporting Afghan forces.
Wednesday's attack brings to 10 the number of American soldiers killed in Afghanistan this year.
The bombing was claimed by Taliban spokesman Zabihullah Mujahid, who said 15 foreign soldiers, including two "high-ranking officers", had died.
The blast comes a day after dozens died in a suicide bombing at a Shia mosque. The Islamic State group claimed that attack.