Texas mother held for 120mph street race with baby in car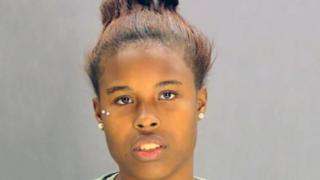 A Texas mother has been arrested after crashing her car during a 120mph (190 km/h) street race with her unrestrained toddler in the back seat.
Keirra Beaty, 20, lost control while racing another car on Sunday night, hitting a telephone pole on the side of a Dallas motorway.
Her 13-month-old son, who was not in a baby's car seat, was on a passenger's lap in the back, police said.
Ms Beaty and the passenger were taken to hospital for minor injuries.
The young boy was not hurt, and is currently with his father.
Ms Beaty has been charged with child endangerment.