Anthony Scaramucci: Five top tips to lose a job in 10 days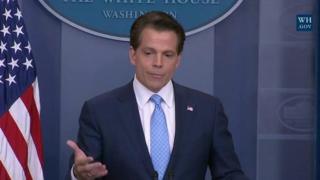 He came, he unloaded a foul-mouthed tirade against some of his colleagues, he was fired.
Anthony Scaramucci's 10-day tenure as White House communications director was abruptly ended by President Trump's new chief of staff, Gen John Kelly.
Jokes, memes and salty comments have filled many of the 235,000-or-so tweets posted using the hashtag #Scaramucci since Monday.
Among the schadenfreude, people have been sharing their own tales of abbreviated employment.
US sports journalist Nubyjas Wilborn asked his nearly 4,000 followers what the shortest amount of time was they had spent in a job and why.
So what can would-be job-leavers learn from others' tales of employment woe? Here are five top tips borne from social media users' bitter personal experience.
1. Do: Be inclusive and ingratiate yourself with your colleagues
Seething with righteous anger at the burning injustice of being excluded from the tea run may be slightly over the top, however.
2. Do: Use your initiative in reacting to unexpected events
Rain probably isn't all that unexpected though, even if you live in Australia.
3. Don't: Distract your colleagues with unnecessary chatter
Silence can also be deafening.
4. Do: Aim high and break records
Particularly if your job involves being in a confined space at 30,000 feet.
5. Do: Think carefully about the task at hand
Just not too carefully.
By UGC and Social News team