US airline mechanic achieves record-breaking 75 years of service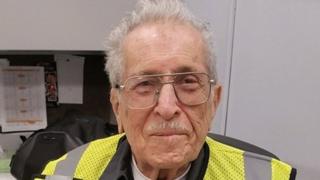 An American Airlines worker has landed in the record books after becoming the world's longest-serving airline mechanic.
Azriel "Al" Blackman, 91, started work aged 16 in 1942 for the airline on 50 cents (30 pence) an hour.
He has worked on nearly every American Airlines aircraft, from boats that landed on water to today's modern jets.
In honour of his service, he had a Boeing 777 dedicated to him in a ceremony at New York's JFK airport.
The plane features his signature, and a design painted in his honour is in the aircraft's interior.
He also received a plaque from the Guinness World Records for the "longest career as an airline mechanic".
"I'm just honoured to be here, I'm proud to be a mechanic. I'm proud to be part of the American Airlines team," Mr Blackman said, while receiving a standing ovation at the ceremony.
The nonagenarian still clocks on for work five days a week at a hangar at JFK International Airport, well in advance of his 05:00 start time.
"When you like what you do, it's not work," he said.
His age means he is no longer allowed to scale ladders, drive on the airfield precincts or use some tools. His responsibilities include assessing what maintenance is needed on the 17 airliners kept overnight at the airport, The New York Times reports.
But he does not see himself retiring any time soon. He told local media he hoped to have "many more years with the company".
"But that's not up to me," he added. "That's up to the man upstairs. The first thing I do when I get up in the morning, I say 'thank you for another day'."