New York's Citi Bike sharing scheme sees first fatality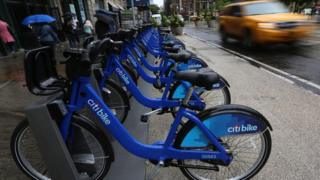 A bike-share cyclist in New York has become the first fatality in the city since the programme was launched four years ago, officials say.
Dan Hanegby, 36, collided with a bus which then ran him over.
The dead man is reported by local media to be a married investment banker from Israel who moved to the US in 2003 to study at university.
Officials from the Citi Bike programme say that more than 43 million journeys have been made since the scheme began.
A spokesperson from Citi Bike's parent company expressed "heartfelt condolences" to the dead rider's family.
Cyclists in New York have recently started lobbying the authorities to do more to improve their safety, local media report.
How the humble bicycle is making a comeback
New York launches bike share scheme
Four people were killed on bicycles in the city between January and April this year, the latest figures show.
Citi Bike is reported to be the largest bike sharing scheme in the US, with nearly 600 docking stations across New York City.
Similar schemes are already in place in cities across the world including London, Paris, Montreal, Beirut and Barcelona.